- Police announced on Thursday that the arrest of a member of a gun smuggling group had led to thwarting an attempt at the President's life
- According to Wilford Palma, the  member of the gun-smuggling group, their "number one customer" had ordered the gun parts
- Reports had it that the Criminal Investigation and Detection Group (CIDG) has yet to verify Palma's claim on the assassination attempt
The police announced on Thursday, September 1, that a possible attempt at the life of President Rodrigo Roa Duterte has been reportedly thwarted members of a gun-smuggling group was arrested.
In a press conference held at Camp Crame in Quezon City, a certain Wilford Palma had admitted that gun parts have been ordered by their "number one customer" for an assassination attempt planned for the President.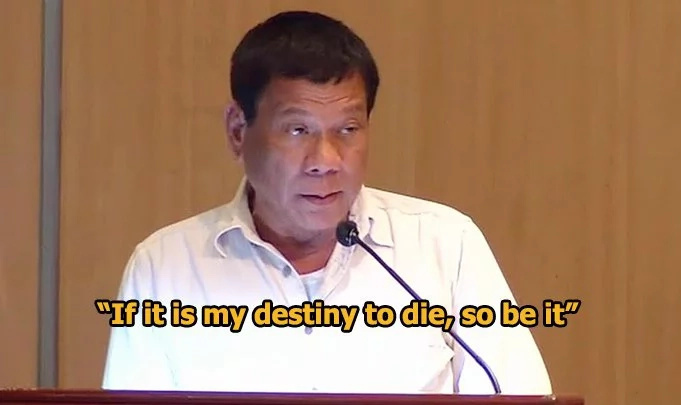 According to Palma, "Ang sabi sa akin ng boss ko yung number one customer namin may balak umorder ng lower end gun parts at gagamitin sa assasination ni President Duterte." 
READ ALSO: Duterte on Putin: 'Pareho kami eh'
(My boss had told me that our "number one customer" intends to order a lower-end gun parts to be used in the assassination of President Duterte.)
The "customer" had reportedly ordered  100 upper receiving parts, 40 barrels, and 30 vaults - gun parts that are enough to make 100 M-16 rifles - that will be used by the group to kill Duterte.
Palma also admitted that they would not have reported the attempt to the president's life if the police had not arrested them.
READ ALSO: Will the Duterte administration push through the creation of the Department of Housing?
According to Chief Supt. Roel Obusan, head of the Criminal Investigation and Detection Group (CIDG), this report made by Palma will still be validated, but due to his testimony, Palma will be kept under police custody and considered a witness.
Reports had it that Palma's boss, Bryan Ta-Ala, is currently confined at an intensive care unit (ICU) of a hospital in Bacolod due to hypertension.
The CIDG had confiscated P4.5-million worth of gun parts smuggled from the U.S. from Ta-ala and Palma.
RELATED: 'I won't do a Marcos' – Duterte says no to martial law
Source: Kami.com.ph