Temer is now Brazil's 37th president after Rouseff's ouster
- Michel Temer has been officially sworn in as Brazil's 37th President
- Temer's oath-taking has taken place, following the ouster of Dilma Rousseff
- Dilma Rousseff, Brazil's first female President, was impeached after the Senate voted 61-20 in favor of the ouster
Michel Miguel Elias Temer Lulia has been officially named and sworn in as Brazil's 37th president following the ouster of Dilma Rousseff, upon the culmination of the impeachment hearing which ended up in a Senate voting on Wednesday, August 31.
While Rousseff's ouster was presumed, the Senate's vote of 61-20 in favor of the ouster was not.
The Brazilian Senate voting on Rousseff's case had been the culmination of a year-long fight which paralyzed the country's emerging economy and exposed the deep rifts - ranging from race relations to social spending - among its people.
READ ALSO: Is PH safe after Singapore confirmed Zika spread beyond place of outbreak?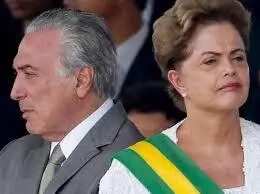 Rousseff, who has repeatedly denied the allegations and proclaimed herself innocent, posted a tweet minutes after the Senate decision was released.
In her tweet, Rousseff has said, "Today is the day that 61 men, many of them charged and corrupt, threw 54 million Brazilian votes in the garbage."
Rousseff's ouster may be have been the only option in the eyes of the opposition lawmakers. However, the political struggle that this episode with Brazil's first female president, whose career included a stint as a Marxist guerrilla, is definitely far from being over. To many, Rousseff remains to be the woman who endured jailing and torture during the country's dictatorship in the 1970s.
Rousseff believes that many opponents wanted her out of the way so they could save their own skins by tampering with the investigation. As such, she was accused of breaking fiscal laws in her management of the federal budget, which led to her suspension in May, eventually propelling Temer, her vice president, to assume the presidential powers and duties in an acting capacity.
READ ALSO: The search is FINALLY over: PH now has new Philippine ambassador to US
The 75-year-old Michel Temer, a career politician, had, as an acting president, named a cabinet of all-white men, which made him unpopular among the people. Three of his ministers were forced to resign within weeks after they took their jobs because of corruption allegations, which also threatened Temer's hold on power.
Michel Temer, the former vice president, has now been officially sworn in and is expected to serve out the remainder of Rousseff's term through 2018 as the 37th Brazilian president.
RELATED: Duterte supporters hit back at critics using photo taken in Brazil, not in PH
Source: KAMI.com.gh