– At least four people reportedly have died after the car was crushed under the giant tanker
– The incident happened in Fujian province, China, on Monday
The cement tanker was caught on video losing control as it travelled along a road in southeast China's Fujian province on Monday.
As it reached the junction, it suddenly swerved to the left, rear-ending a truck and sending it flying in the opposite direction.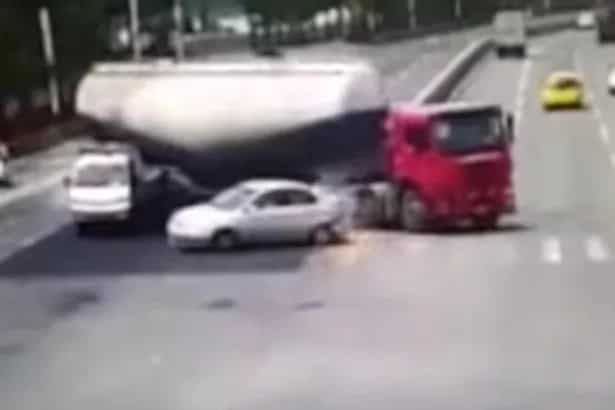 READ ALSO: Outraged man jumps on the car and headbutts its windscreen
The smaller vehicle was completely crushed under the weight of the tanker.
It is unclear if this figure includes the tanker driver. The victims' conditions are yet to be confirmed by officials, but reports say at least four have died.
READ ALSO: Truck driver warns all econobox drivers that brakecheck trucks!
The car and truck were waiting at a red light when the red-and-silver tanker approached from behind and rear-ended them.
Watch the whole footage below.
READ ALSO: Crazy girl smashes car's window with her high hills! (Video)
Source: Kami.com.ph