- Actor-turned-recording-artist Enchong Dee gave his fans the surprise of their lives when he included them on his latest music video
- Dee invited 9 groups of the many who posted their dance cover after inviting them on an Instagram post
- The music video of 'Di Ko Alam' was released last August 26 on the cable music channel, Myx
Enchong Dee showed off his dance moves with a twist to his latest single, 'Di Ko Alam' by surprising his fans and letting them join him in his latest music video.
What started out as an invite ended up as a chance for the fans to be on the music video which was released last August 26 on the cable music channel, Myx.
Their experience started when the 27-year old actor-performer posted a lyric video of his second single on his latest album, 'Enchong Dee Moves.' The Instagram post reached over 21,800 views.
READ ALSO: WATCH: Enchong Dee shows off romantic moves
In the caption, he sent out an invite to all aspiring dancers and fans who wished to join his latest venture and indicated that they will be shooting soon.
Upon seeing the actor's post, fans immediately expressed their interest and bombarded him with questions on how to join.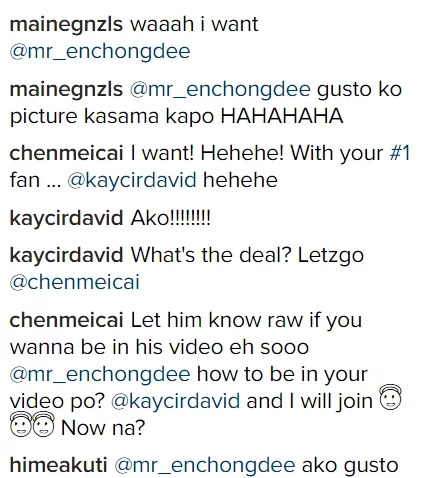 Not long after, the distributor of his album, Star Music, announced that in order for fans to jive with the recording singer, all they have to do was upload their own dance cover of the track.
READ ALSO: Top 10 alleged gay Filipino actors
In the end, only nine 9 groups were announced.
During the day of the shoot, each group was informed that they would be shooting their own covers. But little did they know that their idol was just in standby to personally meet and dance with them.
The fans had the shock of their lives when Dee appeared out of nowhere and hugged them. Some couldn't hide their tears of joy and excitement while others were actually speechless as they approached him.
READ ALSO: Walang Forever: 8 painful celebrity breakups so far this year
In the middle of moving from one location to another, Dee admitted the difficulty in recording amidst the heat. Nevertheless, he was thankful for everyone who went out their ways just to support him.
The touching gesture of the performer showed how dedicated he was to his craft.
The actor's singing career started in 2014 when he released his first album named after him. Two years later, he released the tracks, 'Telenobela' and 'Di Ko Alam' for his latest record.
Source: Kami.com.ph