Photographer saves pregnant woman from a burning car
– Pregnant woman got stuck in the car after head-on smash
– Brave photojournalist Patrick Perry pulled her to safety when her car started to burn
– Woman was rushed to hospital, and she and her baby hopefully are doing well
7-months pregnant woman, 21, got stuck in the sports car after it careered off the road in Baton Rouge, Louisiana.
Fortunately, WBRZ photographer Patrick Perry and reporter Brittany Weiss were on their way to an unrelated news story when they saw the car crash into a tree and start spitting flames from its bonnet.
READ ALSO: Brave cops save a baby covered in his drunk mom's vomit
His colleague started to film the whole process on camera. You can see Perry carry the woman to safety and place her on the road as passers-by rushed over to help.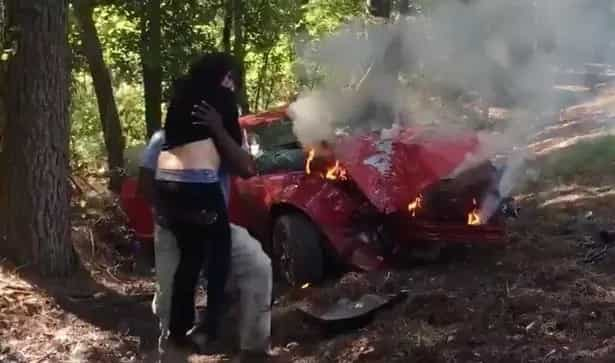 That's what Brittany later wrote on her Facebook:
"On our way to a story this morning and come across a burning vehicle on Hwy 63 just before Hwy 444. Photojournalist Patrick Perry jumps out and pulls a seven and half month pregnant woman from the passenger side. She's been taken to the hospital. You cover stories like this but rarely witness a hero first hand."
READ ALSO: Valiant coastguard revived lifeless kitten after kissing it (video)
The woman was immediately rushed to hospital, where she and her baby are believed to be doing well.
Watch the whole footage below.
READ ALSO: Watch priceless reaction of the giant pitbull saved by valiant police officer who had to smash in the car for it
Source: KAMI.com.gh