- Filipino comedian and actor Ogie Diaz wrote a note on his Facebook account addressing "networking people" who boast and post selfies with luxury cars on social media
- Diaz suggested treating their prospects  at a fine dining instead of just bringing them to a fast food or coffee shop and offer only coffee to prove their claims that they got rich from networking
- The showbiz reporter also encourages networking people to become more realistic in convincing their prospects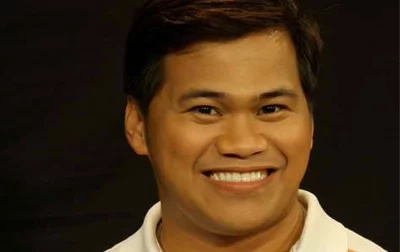 READ ALSO: An open letter to Rodrigo Duterte: Congrats Mayor!
Below is the Facebook post written by Ogie Diaz. Read on.
"Dear Networking people, lalo na dun sa mga nagpo-post ng mga naipundar daw nilang magarang sasakyan (like Porche or Ferrrari or Maserati)....
"Yung rehistro niyan na nakapangalan mismo sa inyo ang ipakita nyo, wag yung sume-selfie lang kayo katabi ng sasakyan para mas maniwala yung mga prospect downlines nyo na kayo ang rightful owner.
"Magkano rin yan? Milyon-milyon ang halaga. So yan ba talaga ang una nyong bibilhin o ipupundar sa milyones na kinikita nyo para i-post at engganyuhin ang mga taong sumali na sa networking?
READ ALSO: Reader's letter: "4 things failed relationships taught me to become the perfect date"
"Di ba mas maganda kung house and lot or condo ang ipinupundar nyo at di yang mga sasakyang yung iba'y nagpa-selfie lang na kunwari ay kanila ang kotse?
"Unahin nyo ang bahay dahil mas nag-a-appreciate ang value nyan yan kesa sa sasakyan. Nang sa ganon, ma-inspire nyong mag-join ang mga tao dahil magkakabahay sila, hindi magkakaroon agad ng magarang tsikot.
"At please, tip lang sa ibang nagyayabang na yumaman sila sa networking lang, utang na loob, pag mag-iimbita kayo ng mga prospect, manlibre, kayo huwag sa coffee shop na kape lang ang iti-treat nyo.
READ ALSO: She wrote her husband a touching letter as her plane was crashing. And then…
"Dun nyo dalhin sa fine dining para mas ramdam nilang totoo nga ang sinasabi nyong yumaman kayo diyan sa networking. Pakainin nyo ng steak, wag yung dinala nyo lang sa fastfood eh kayo tong nagpe-press release na mayaman na kayo di ba?
"O don't get me wrong, networking people, ha? Tulad na rin ng lagi nyong tanong....
"Openminded naman siguro kayo, di ba?
"So sino gustong maging downline ko? #Charot"
READ ALSO: Ghost love story: Woman reunites with lover after 50 years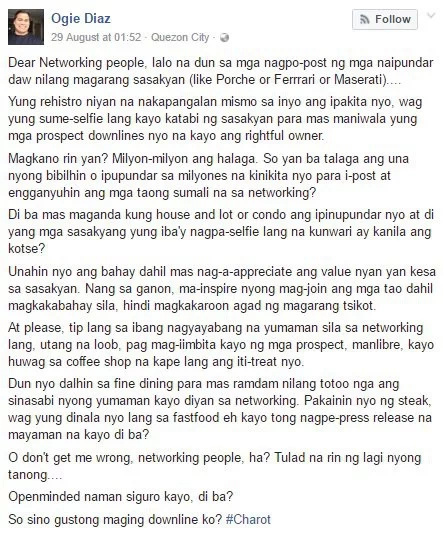 (Dear networking people, especially to those who would post their fancy cars which they claimed they accumulated from networking [like Porche or Ferrari or Maserat].
Show the official registration of these cars under your name, instead of taking selfies beside them so that your prospect downlines will believe you even more that you are the rightful owner.
That's how much? They cost millions. So is that what you will really buy first from the millions you got, just to share on social media and encourage people to join networking?
READ ALSO: You wouldn't believe these 5 mind-blowing Pinoy facts!
Wouldn't it be better if you rather invest in a house and lot or in a condo and not in vehicles where some would only take a photo with and pretend they own the cars.
Prioritize a house because people will appreciate more its value compared to cars. With that, you will inspire people to participate because they will get to own a house, and not with the idea of having luxury cars immediately.
And please, just another tip for those boasting that they got rich because of networking alone, for heaven's sake, if you will invite your prospects, do not treat them at a coffee shop and offer them only a coffee.
READ ALSO: This Cebu Pacific employee is going viral; passenger almost missed her flight!
Bring them instead to a high-end restaurant so they will believe that what you are claiming - that you become wealthy from networking - is actually true. Offer them steak, and don't just bring them to a fast food chain, since it is you who declared that you are well-off.
Don't get me wrong, networking people, okay? Just like what you would always say…
You are probably open-minded, right?
So who wants to be my downline?)
Let us know what you think! - Kami Media
RELATED: Brad Pitt's HEARTBREAKING letter to Angelina Jolie goes viral again
Source: Kami.com.ph