- President Rodrigo Duterte on Wednesday said that he is praying for the welfare of Mary Jane Veloso, a detained Overseas Filipino Worker (OFW) 
- Veloso who was sentenced to death for drug trafficking in Indonesia was set to be executed last year but was given a last-minute reprieve
- Data from women's commission in Indonesia and Migrante International showed that 94 Filipino migrant workers are on death row overseas
READ ALSO: Netizens cry for DEATH PENALTY as video of alleged RAPE victim in Tagum goes viral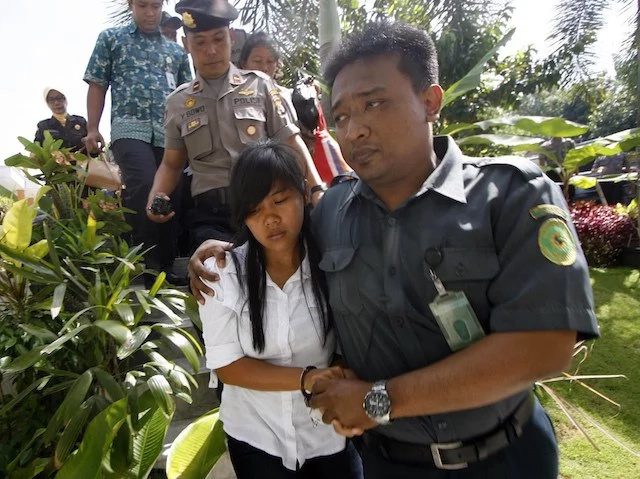 Despite being known as a tough-talking chief executive when it comes to his anti-drug campaign and for being an advocate of death penalty, President Rodrigo "Digong" Roa Duterte has a soft heart for the Overseas Filipino Workers (OFW).
The iron-fisted and crime-busting president of the Philippines said on Wednesday that he hopes he could do something for Mary Jane Veloso, a Filipino worker detained in Indonesia.
''(Si) Veloso. Ewan ko kung anong – I'm praying that I could do something for her,'' said Duterte who welcomed deported OFWs from Saudi Arabia.
READ ALSO: Infant and pregnant woman among dead Filipinos in Saudi house fire
(With Veloso. I don't know if – I'm praying that I could do something for her.)
Duterte is set to visit Indonesia on September 8-9 following his attendance to the Association of Southeast Asian Nations (ASEAN) summit in Laos.
Veloso who said was deceived by her recruiters into bringing illegal drugs to Indonesia was sentenced to death for the 2.6 kilograms of heroin he brought to the Yogyakarta Airport in 2010.
READ ALSO: Communists make peace with Duterte; CPP declares unilateral CEASEFIRE!
Fourteen drugs convicts were executed in Indonesia last year despite resentment from governments and human rights activists worldwide. Veloso who was on the list was about to be executed via firing squad but was granted a reprieve.
The National Union of People's Lawyers (NUPL) has previously urged the local government to "reopen official channels and strongly appeal for clemency" to finally remove Veloso from the death row.
According to women's commission in Indonesia and Migrante International, there are 94 Filipino overseas workers who are on death row.
READ ALSO: NPA wages WAR vs Duterte, vows to step up DEADLY attacks!
Migrante International's deputy secretary-general Mic Catuira asked the government to look at migrant workers as the victims of the drug trade.
"Governments should consider (migrant workers) as people who are victimized by the drug trade, they are tricked into being mules - but they are the ones being punished for the crime," the deputy secretary-general said.
- Kami Media
RELATED: Mary Jane Veloso excluded from execution
Source: Kami.com.ph