- An 11-year-old kid was arrested by police for theft and taking a 40-inch LED TV and eight pairs of branded shoes
- The kid was arrested along with his guardian who is suspected to instruct the kid to rob houses
- The kid was set free after the victim did not file a case in the police station
An 11-year-old thief was nabbed by the police along with his 33-year-old guardian after robbing a house.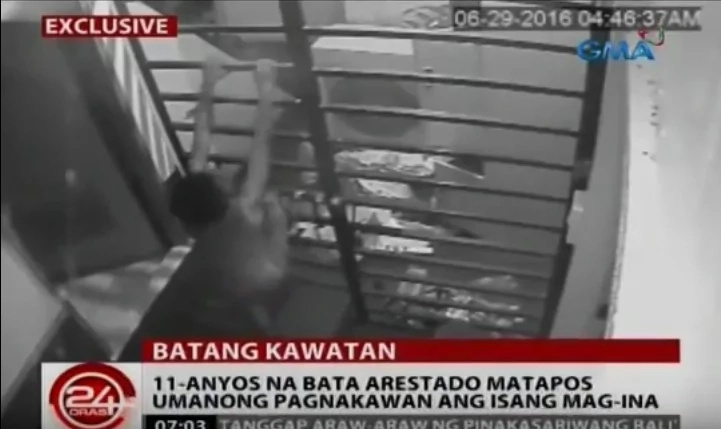 READ ALSO: THE WORLD IS GOING MAD! 10-year-old girl raped by grandfather, 2 uncles; 6-year-old 'raped' by father, grandfather
The minor was bawling when Barangay Tanods and social workers from DSWD tried to take him to the nearest police station. The child took 40-inch LED TV and eight pairs of branded shoes.
The child was arrested in a repair shop in Rizal along with his guardian, John Rigo Anigo. The latter is reportedly instructing the child to engage in burglary. The repair shop is a front for the two to dispose the loot.
The child is reportedly notorious in robbing homes in Nangka, Marikina and nearby locations. According to the unnamed victim, this is the fourth time that the child robbed her. In previous incidents, the child targeted the victim's payment center and salon.
However, since the victim did not come back to file a case and the suspects were set free.
READ ALSO: Duterte supporter to human rights advocates: 'I want to cry with you, but…'
This raises the question whether we should lower the age of criminal to be liable in the law. In the Philippines, criminals at the legal age of 18 are liable for their crimes. Minors who committed crimes are not liable for their crimes and are sent to DSWD for rehabilitation. The law believes that there is room for change and rehabilitation of young children.
Watch the video of the report on the incident below.
READ ALSO: Watch shocking video of a shop owner and a robber get into a sword fight!
Source: Kami.com.ph