- Mother of one of the 15 killed soldiers in Abu Sayyaf encounter received a text message from her son's killer
- The killers said that her son is already dead and that they cut off his head
- 15 soldiers died during the encounter with Abu Sayyaf in Jolo, Sulu
A text message from the killers confirmed the death of Mila Falcasantos' son, Pfc. Jison Falcasantos who was one of the 15 soldiers who had been killed by the bandit group Abu Sayyaf on Tuesday in an encounter in Jolo, Sulu.
When Mila heard the news about the 15 soldiers who died, she immediately sent a text message to her son, a private first class in the 35th Infantry Battalion, who was one of the soldiers deployed to Sulu.
On Monday, at 6:40 p.m., she texted: "Son musta jan?" (Son how are you?)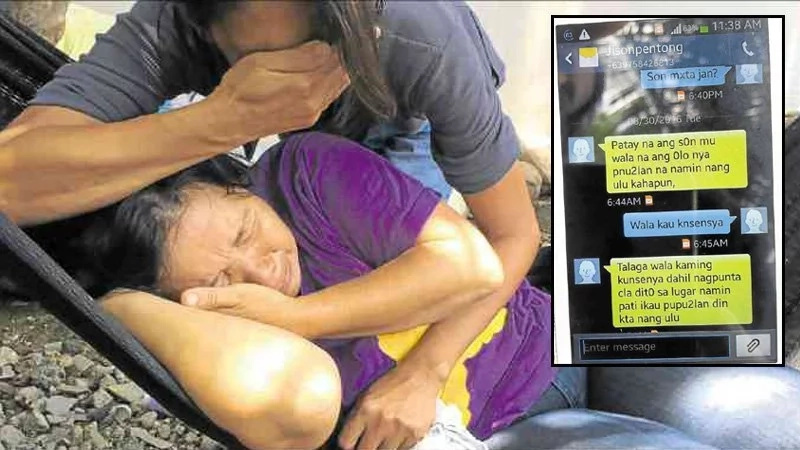 READ ALSO: Soldiers on the losing side against Abu Sayyaf; 15-4 kill tally
Mila barely slept that night, waiting for his son's reply. She patiently waited but there was no reply the whole night.
The next morning, at 6:44 a.m., she received a message from her son's number. The message said: "Patay na ang son mu, wala na ang ulo niya, pinutulan na namin ng ulo kahapon" (Your son is dead, he has no head now, we beheaded him yesterday).
The 60-year-old mother replied and said:  "Wala kayong konsensya" (You have no conscience).
READ ALSO: 21 Abu Sayyaf bandits DEAD after 2-day battle
The killer texted back: "Talaga wala kaming konsensya dahil nagpunta sila dito sa lugar namin pati ikaw puputulan din kita ng ulo" (We do not have conscience indeed because they were the ones who came here. We will cut off your head as well.)
Mila then called a military officer who is a relative in Jolo. He confirmed that Jison is one of the killed soldiers at Sitio Kan Jalul in Patikul and said that he had been indeed beheaded.
In an interview, Mila said: "He saw my son's body, and two other soldiers, including an officer, had also been beheaded."
READ ALSO: Abu Sayyaf beheads teen hostage; WATCH Duterte vow to DESTROY terror group!
Mila called President Rodrigo Duterte's attention and asked him to stop the Abu Sayaff menace so that more lives would not be wasted.
The other 14 soldiers who were slain were 2nd Lt. Ernan Gusto, S/Sgt. Ruel A. Catubay; Sgt. Jay Elwin I. Almohallas; Corporals Omar M. Raddulan, Elid E. Ismael and Saik H. Mandangan; Privates First Class Nestor B. Bacaling Jr., Geral A. Yubal, Dhendo A. Dujo, Roselito A. Arnoco, Glend C. Resma, Ronald Galloniga, Rogelio Vincoy Jr.; and Pvt. Jonas A. Lumayan. - Kami Media
READ ALSO: PH Army scores major victory over Abu Sayyaf; FIND OUT the details
Source: Kami.com.ph