- A video clip showing an obese man trying to mount a horse went viral
- The horse got upset after feeling the heavy weight of the obese rider
- The animal panicked and threw off the obese rider, who fell on a fence in a painful manner
A video of a horse getting angry and attacking an obese man after he tried riding on its back had gone viral, with netizens finding the entire encounter extremely hilarious.
The clip starts with the obese man trying multiple times to mount the horse and failing each time. He was only able to successfully mount the horse after his friend helped him out.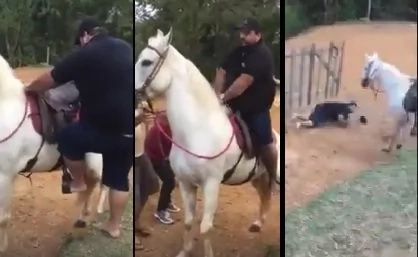 READ ALSO:VIDEO: Duterte meets VIRAL Filipino-British boy who is his biggest fan
Unfortunately, the horse found the obese man to be too heavy to carry. The animal started to get upset and used several wild moves to throw the man off.
The horse was successful in dropping off the heavy load. The man lost his balance and fell on a fence in a painful and awkward manner. The eyewitnesses laughed at the comedic scene they just saw.
READ ALSO: VIDEO: Father, son ATTACK a helpless man after losing in Pampanga cockfighting!
Many netizens were amused and entertained with the funny encounter between the man and the horse.
"OVER WEIGHT KASI SIYA! HINDI KINAYA NG KABAYO (The horse threw him off because he is overweight)!" a netizen posted.
Other online users criticized the obese man for trying to ride a horse without assessing the capability of the horse to carry a heavy rider.
"Mga taong basta basta nlng ginagawa yung isang bagay, di nila alm kung kaya o hindi (These people do things without knowing whether they are achievable or not)," an online user said.
SHARE this hilarious video with your family and friends! – Kami Media
READ ALSO: VIDEO: Man sees his WIFE trying to KILL & strangle their 1-year-old son!
Source: Kami.com.ph