- President Rodrigo Roa Duterte had announced on Wednesday, August 31, that he is ordering the PNP and AFP not to implement the standing arrest warrant against Nur Misuari
- This announcement was made, following a phone conversation that the President had with the MNLF leader
- According to the President, he will not detain Misuari and his only interest is in the peace process due to the ongoing firefight in Jolo, Sulu
President Rodrigo Roa Duterte announced on Wednesday, August 31, during a speech in front of Overseas Filipino Workers (OFW) at the Ninoy Aquino International Airport (NAIA) Terminal 2, that he is ordering the Philippine National Police (PNP) and the Armed Forces of the Philippines (AFP) not to implement the standing arrest warrant for Moro National Liberation Front (MNLF) leader Nur Misuari.
According to the President, "Si Nur nag-usap kami kagabi. Gusto niya sa Kuala Lumpur....Sabi niya, dalawang araw, magpirmahan na tayo, tapos na ang away."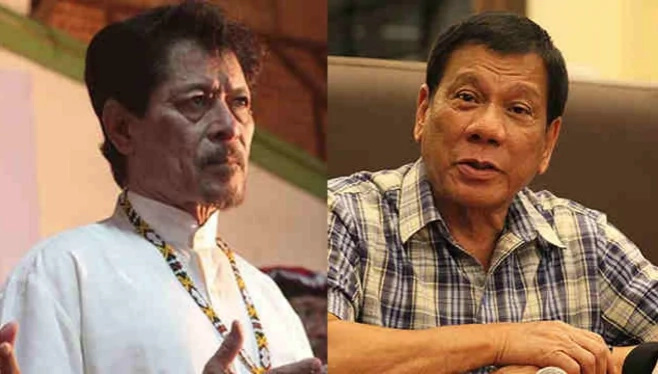 (Nur and I talked last night. He wanted to meet in Kuala Lumpur... He said, in two days, let's sign and end the fighting.)
READ ALSO: Duterte orders security forces to destroy Abu
Duterte did not elaborate what the signing would be for, but he said that Misuari had suggested to have the meeting in Kuala Lumpur, Malaysia, in the presence of a representative from the Organization of Islamic Countries (OIC) during a phone conversation on Tuesday, August 30.
"I told him, Nur, I have no intention of detaining you or placing you in custody of government. Interesado ako kasi bakbakan diyan sa Jolo hanggang ngayon," Duterte added.
(I told him, Nur, I have bo intention of detaining you or placing you in the custody of the government. I'm interested because of the firefight going on in Jolo until now.)
READ ALSO: Misuari stood up meeting with DU30
He also clarified the order to the police and military not to implement the warrant of arrest for Misuari so they can meet to dicuss the Mindanao peace process.
"Ako man ang hepe ng pulis at military, sabihin ko, huwag galawin. There is a warrant of arrest but don't implement it against him," he said.
(I am the commander-in-chief of the police and the military. I'll tell them not to touch him.)
READ ALSO: Duterte seeks peace with Misuari
The standing arrest warrant that the President had mentioned was for Misuari's inciting of rebellion and violation of international humanitarian law at the 2013 Zamboanga siege which had led to the deaths of over 200 and the displacement of thousands of people.
Reports had it that the 2013 siege was prompted by Misuari's fear that a looming peace agreement with the Moro Islamic Liberation Front (MILF), would negate his group's 1996 peace deal with the government.
Reports also said that Duterte had wanted to meet with Misuari on August 12, when he visited a military camp in Jolo, Sulu, but Misuari did not show up. Duterte had then said he expected to meet Misuari in 2017.
RELATED: What President Rodrigo Duterte has to say about talks with the Abu Sayyaf
Source: Kami.com.ph