- The Supreme Court hears oral arguments regarding the burial of the late President Ferdinand Marcos at the Libingan ng mga Bayani
- Government lawyers and groups opposing the hero burial will participate in the oral arguments
- Eighteen issues will be discussed in the arguments
The Supreme Court hears oral arguments between government lawyers and groups opposing former President Ferdinand Marcos at the Libingan ng mga Bayani on Wednesday morning.
Seven petitions had been filed by  victims of Martial Law, government officials, and members of the youth who oppose Marcos' hero's burial.
Senator Leila De Lima, on Tuesday, filed the seventh petition. However, she asked the SC not to include her petition in the discussion of oral arguments.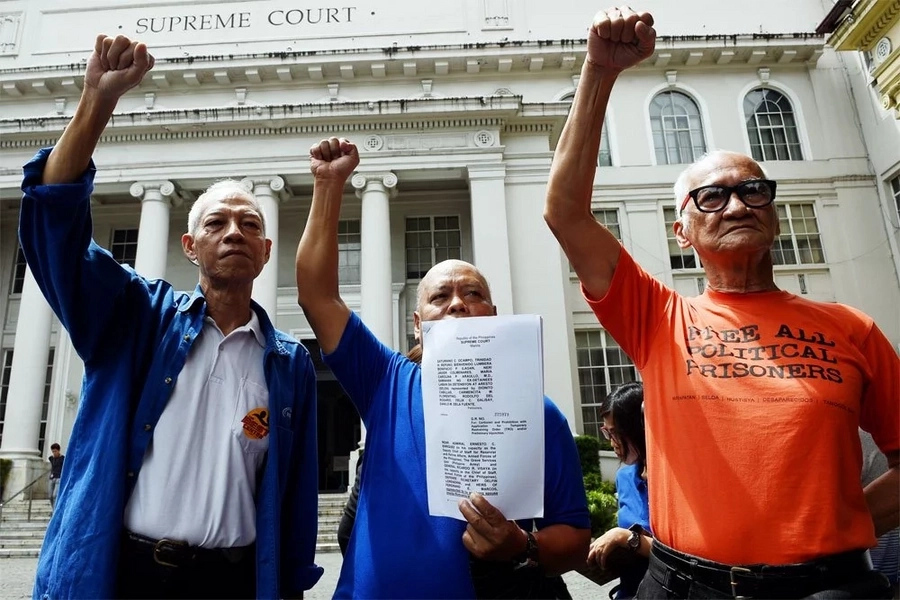 READ ALSO: Marcoses to Martial Law victims: Burial will not affect your right to reparation!
Invited resource persons were National Historic Commission of the Philippines  Chairperson Maria Serena Diokno, former Local Government Secretary Rafael M. Alunan, and representatives from the office of the Ombudsman, the Presidential Commission on Good Government, the Human Rights Claims board, and the Commission on Human Rights.
Expected to represent the respondents is the Office of the Solicitor General (OSG) that asked the SC earlier to dismiss the petitions. According to the OSG, the challenge against President Rodrigo Duterte's decision to bury Marcos at the LNMB is a political question that the SC cannot resolve.
Eighteen topics will be tackled during the arguments.
READ ALSO: Marcos will not be buried at the Libingan in the meantime – SC
The issue on whether approving the burial will contradict public policy and morals and whether it will violate the 1987 Constitution will be discussed.
The issues regarding the violation of international law are also expected to be tackled in the arguments, and whether President Duterte acted within his authority under the  Administrative Code, which may lead to the dismissal of the petitions.
Also expected to be tackled is the argument whether Marcos could be considered as a hero. Petitioners had cited the late president's doubtful record as a soldier of war and his massive violations of human rights.
Government lawyers and petitioners will be allotted 30 minutes each to present their arguments which will be followed by interpellation from any of the 15 members of the high court. - Kami Media
READ ALSO: Petition to stop Marcos hero's burial increases; another appeal filed before SC
Source: Kami.com.ph