- A video of a New Jersey Transit cop risking his life to save a suicidal man from being hit by the train has gone viral
- The video shows the hero cop doing his best to rescue the man despite the latter's violent resistance to his efforts
- The cop is Victor Ortiz, a NJ Transit cop for 16 years
A New Jersey Transit cop is being hailed as a hero after he risked his life to save a suicidal man lying on the tracks seconds before the train arrived.
A CCTV footage showing the heart-stopping rescue is being applauded by netizens worldwide.
The hero cop is Victor Ortiz, who usually works the overnight shift. His shift usually ends at 7 a.m. but he happened to work overtime on August 26.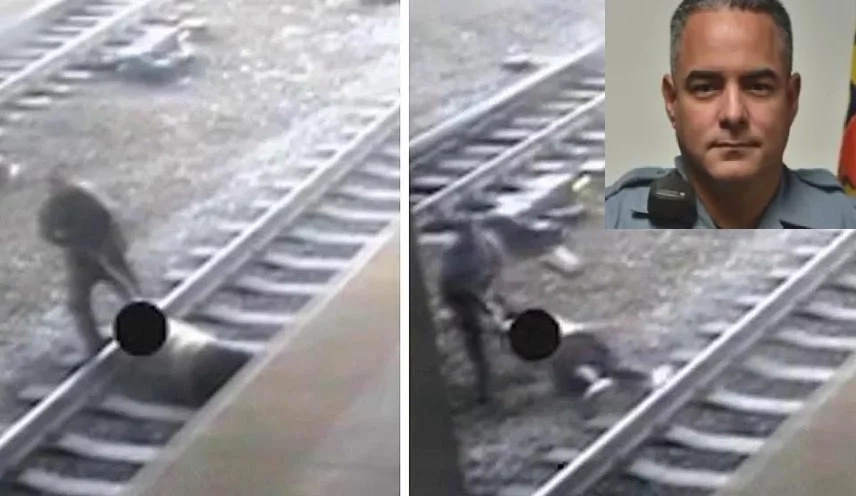 READ ALSO: VIDEO: Duterte meets VIRAL Filipino-British boy who is his biggest fan
At around 7:25 a.m., the hero cop received a call that there was a man causing a commotion at the train station. Ortiz immediately rushed to the scene in order to help out.
When Ortiz arrived at the scene, the suicidal man jumped off the platform and onto the tracks. The hero cop jumped down with the suicidal man.
According to Ortiz, the man repeatedly shouted: "I want to die, I want to die."
The suicidal man then lied down on the tracks as the train approaches. The cop tried to pull him to safety but he resisted. Ortiz admitted that he thought about leaving the man behind.
"I thought, 'I have to let this guy go. He's resisting, he'll take me with him,'" Ortiz said.
READ ALSO: VIDEO: Father, son ATTACK a helpless man after losing in Pampanga cockfighting!
However, the cop's natural heroism and nobility triumphed. Ortiz risked his life and used his full strength to pull the man into safety. The hero cop succeeded just before the train arrived.
Ortiz has been a transit cop for 16 years. He is married and has a 13-year-old daughter.
Netizens were impressed with the heroic efforts of the transit cop.
"That man is a hero," a netizen said.
"Cop of the century," another online user commented.
However, other netizens argued that the cop should have allowed the suicidal man to die.
"If he wanted to die then let him die," an online user posted.
SHARE this intense video with your family and friends! – Kami Media
READ ALSO: VIDEO: Man sees his WIFE trying to KILL & strangle their 1-year-old son!
Source: Kami.com.ph