- President Rodrigo Duterte issued an executive order on the freedom of information (FOI)
- This aims to improve the transparency in the government, and at the same time to eradicate the systemic corruption
- Despite its goal, there are still 166 exceptions listed in the draft FOI manual
The draft freedom of information (FOI) manual of Malacañang had included 166 exceptions which include those involving the country's national security, executive privilege, and invasion of personal privacy.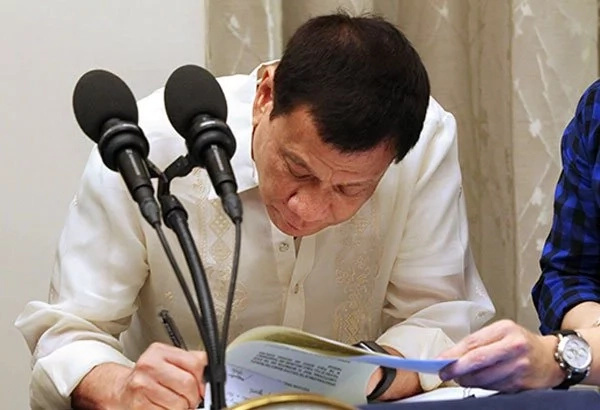 The Department of Justice and the Office of the Solicitor General made the recommendations that served as the bases of the exceptions and also prepared the list of materials that could be released publicly.
According to Presidential Communications Office Secretary Martin Andanar, the list would still be reviewed by the Office of the Deputy Executive Secretary for Legal Affairs.
President Rodrigo Duterte issued the executive order on the freedom of information (FOI) in order to have better transparency in the government.
READ ALSO: NEVER AGAIN: Why Marcos supporters slam Hontiveros for donating history books
The draft FOI manual outlines the steps that need to be taken when requesting for information and what to do if such information is denied.
Based on the draft FOI manual, some of the exceptions include matters that will put the country's national security and the external and internal defense at risk, also information on foreign affairs that may jeopardize or weaken the diplomatic relations of the government's positions in significant matters and negotiations in the international community.
Moreover, the list also includes privilege involving information on the President's appointing, pardoning, and diplomatic powers. The minutes of decision-making and policy formulation meetings are also listed.
READ ALSO: These are the reasons why House Speaker Alvarez wants the SK abolished
Information regarding military or police operations and immigration controls and border security are also exempted.
According to the draft, "government officials cannot be compelled to prepare lists and detailed reports on how congressional funds were disbursed."
Sensitive information that may result in an invasion of privacy such as school records, medical records, birth records, employment records, and banking transactions are also among the exceptions in the draft manual.
Data concerning statements of assets, liability, and net worth of government officials may not be disclosed if the objective is against morals, public policy, or if they are intended for commercial purposes.
READ ALSO: The search is FINALLY over: PH now has new Philippine ambassador to US
When it comes to protection of business and entrepreneurs, trade secrets, confidential commercial and financial data, and business information gathered by government agencies on the operations, books, and record of private corporations may not be released as well.
Information from executive session and privileged communications in Congress are also protected from public disclosure.
The request for information must be written and must clearly describe the kind of information requested, as well as the reason for the request. – Kami Media
Source: Kami.com.ph