- Actor Diego Loyzaga shares his scary encounters on his house, which he claims is haunted
- He also shared that his driver and maid have also encountered it
- His followers have showed support and even shared a few jokes with him
The 21-year-old Kapamilya star Diego Loyzaga has recently shared alarming news on his Twitter account. He claims that ghosts are haunting his house!
On August 29, he tweeted that he wants his haunted house to be blessed because he can't handle what's happening. According to him, he has been experiencing creepy things at home.
Diego shares that after 2 days of changing their light bulbs three have already died. Things also keep falling when no one is at home that even their water dispenser fell off on the floor and flooded the whole room.
READ ALSO: Top 5 most HAUNTED places in the Philippines you would never dare visit
Their television also turned off by itself and their dogs have been barking at the walls and are acting weirdly. Diego admits that he doesn't want to set-up cameras because of what's happening. He also connected his current disposition to the popular Netflix show "Stranger Things."
He also shared that his driver and maid have been having nightmares. They also claim to have seen a "black figure crawling on the ground." Creepy, right?
Diego admitted that before, he didn't believe in ghosts, but now he does.
READ ALSO: TRUE GHOST STORIES: What happened at Teacher's Camp, Baguio City
He also added that he's tweeting all of this in the event that he might go "missing or something." He may be laughing it off right now but he is seriously crept out. We would be scared if we were on his shoes.
Diego just handled the whole thing by humoring himself and laughing at what's happening. He even jokingly invited his friends to do the "spirit of the glass."
He even shared a few laughs with fellow Kapamilya star Marco Gumabao and his other fans.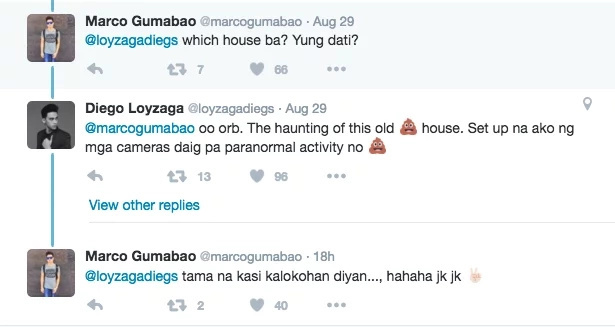 READ ALSO: Cesar Montano shows child support proof in FB
His fans and followers were immediately scared upon reading his tweets.


Most of them have volunteered to either stay with him overnight or that he go to their place for the night.



But generally, all were concerned for him and promised to pray for him.


READ ALSO: Cesar Montano: committed to raise his children
Were you also scared from Diego Loyzaga's tweets? –Kami Media
Source: Kami.com.ph