- Stephen Amell finds out about GMA network's "Alyas Robin Hood," which seemed to be a rip-off of his show "Arrow"
- He shared it on his official Facebook page with a flushed/shocked face emoji
- Netizens and mainly his fans have reacted on the issue as well
About a few hours ago, Stephen Amell, shared a teaser from the upcoming Philippine TV show "Alyas Robin Hood" by GMA Network.
It may seem odd that a Hollywood star has known about this video from the Philippines. Amell has a show with CW Network titled "Arrow," which has somehow the same vibe as the teaser that he shared.
His character in the Arrow series based from the DC comics also wears a hood that brings justice.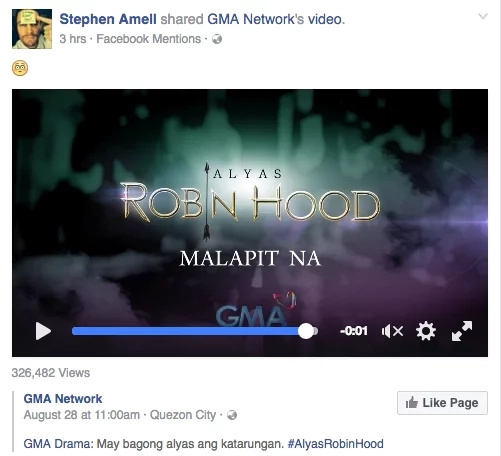 READ ALSO: Dingdong to Marian: 3 more kids!
In the trailer, DingDong Dantes is revealed to be the 'Robin Hood' who fulfills the role of the "may bagong alyas ang katarungan (Justice has a new alias)."
Amell might have found about it through his Filipino fans that aren't also happy about this show. They claim that GMA ripped off Amell's show with CW.
He didn't say anything when he shared the trailer but just placed a flushed emoji, which can also be mistaken for a shocked emoji. At this point, we're not sure what he really feels about this show.
READ ALSO: This President PLAGIARIZED parts of his law school thesis. Guess who he is.
It hasn't aired yet but so far, netizens aren't happy about it. Filipinos are apologizing for this "form of plagiarism."



Some are embarrassed that Amell had to see it and also stated that Philippine TV networks have "no originality."


Unlike any other, some Filipinos chose to deal with it through humor. Here are some of the hilarious comments:


READ ALSO: Does a plagiarist deserve to become CHEd's head?
Some have defended the show, however, claiming that the concept of 'Green Arrow' was also based on the English vigilante who also brought criminals and the corrupt to justice.


There were also Filipinos who claimed that people shouldn't make any assumptions or judgment yet since it hasn't even aired yet.


As of the moment, GMA Network has not yet issued any statements regarding this matter.
READ ALSO: National Youth Commission Says DingDong Dantes Has Not Resigned
Do you think "Alyas Robin Hood" copied "Arrow" or did it just pay homage to the original "Robin Hood"? - Kami Media
Source: Kami.com.ph