- Photo of dead girl, 9, used by Duterte camp was taken in Brazil in 2014
- Peter Tiu Laviña wrongfully used photo to hit back at critics of extrajudicial killings
- Mocha Uson also used the photo along with Laviña's post in her blog, where she was bashed by netizens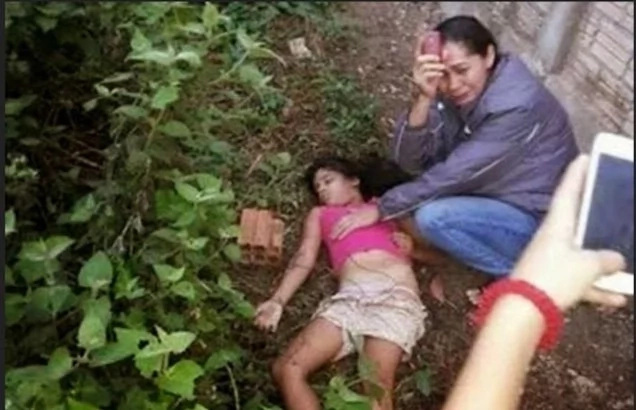 A photo of dead girl circulated recently in social media after it was utilized by supporters of President Rodrigo Duterte to hit back at critics of the President's drug war. A journalist however discovered that the photo was that of a crime which happened in Brazil and not in the Philippines.
The victim in the photo was Evelin Nicole da Silva Sousa. The crime happened in Altamira, Brazil in December 2014.
READ ALSO: Cruel young girl kills helpless animals and brags about it online!
One of those who posted said photo of dead girl, was the campaign spokesman of President Duterte, Peter Tiu Laviña. His post was actually reposted by another avid Duterte supporter, Mocha Uson where she received a lot of bashing for posting the fake photo.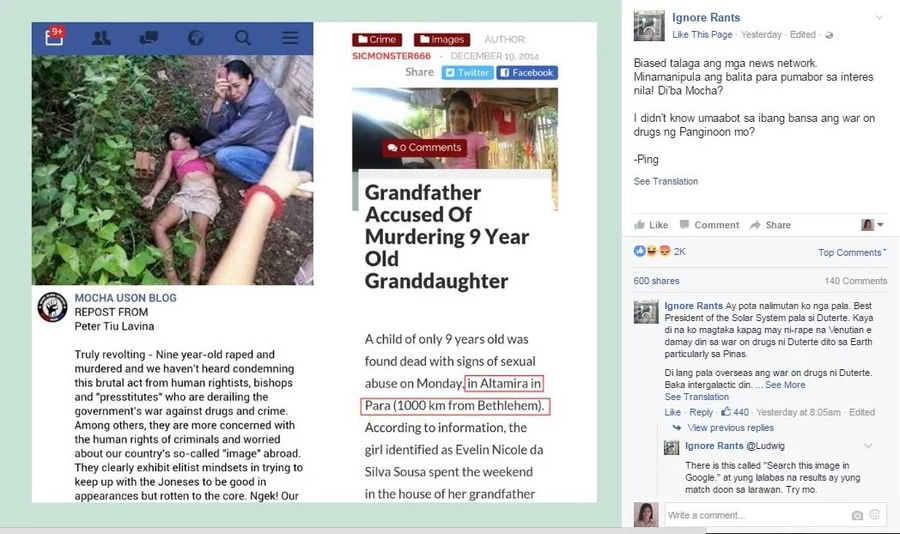 Laviña captioned the photo with a question directed at the President's critics, asking why the rape of a 9-year-old was not a subject of the cries of human rights advocates, and that the latter are pouring their effort criticizing those who kill drug lords.
Laviña also slammed bishops and media outfits who are critical of the present administration. The purpose of Laviña's post may be taken as genuine if not for the blatant attempt of such post to mislead readers.
READ ALSO: #HealingNotKilling campaign to launch soon
The photo, including the crime of rape itself, was made to appear as if it occurred in the Philippines. The truth of the matter was that the said crime happened in Brazil in 2014.
He posted:
"Truly revolting – Nine-year-old raped and murdered and we haven't heard condemning this brutal act from human rightists, bishops and 'presstitutes' who are derailing the government's war against drugs and crime. Among others, they are more concerned with the human rights of criminals and worried about our country's so-called 'image' abroad."
"They clearly exhibit elitist mindsets in trying to keep up with the Joneses to be good in appearances but rotten to the core. Ngek! Our righteous battles against drugs and crime are fierce and relentless because we face the Devil himself. We cannot be soft or let our guards down lest we ourselves will be devoured and be defeated!"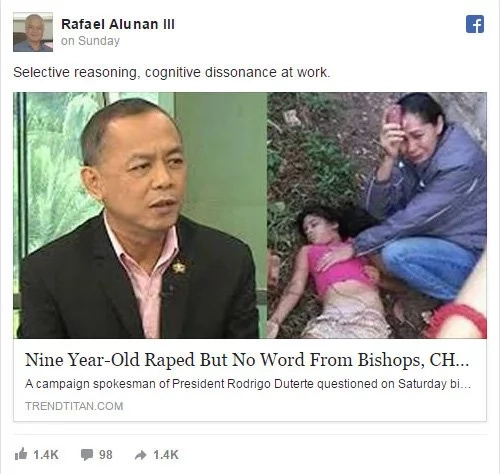 Another ally of President Duterte, former senatorial candidate, Rafael Alunan III, was quick to hit back at the President's critics and said that they were practicing "selective reasoning, cognitive dissonance at work."
When the truth came out, President Duterte's critics demanded an apology from Laviña saying that what he did was a form of misrepresentation. – SD, Kami Media
READ ALSO: Mocha Uson bashed after posting fake photo on blog
Source: Kami.com.ph