- 4-year old boy was thrown off a 27-ft bridge into a river by a complete stranger
- The video was captured by an onlooker who mentioned that the mother of the child was present at the bridge before the event
- The parent earned the ire of web users who described her as 'sickening' and 'messed up'
Is the reminder, "don't talk to strangers" no longer applicable these days?
A four-year old boy was thrown into the river from a 27-ft high bridge by a man who he isn't even acquainted with.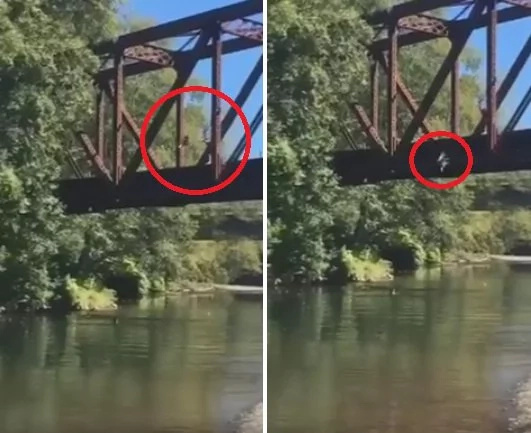 The horrifying footage was captured by one of the witnesses from the side of the river, and uploaded it on social media website, Facebook.
READ ALSO: Grab your tissues! Inspiring video of a 7 year old kid weaving 'banig' goes viral
The user, who goes by Kaylub Fawley, began his caption with, "This is what happens when parents don't care."
Apparently, the young boy was accompanied by his mother during the incident and the latter allegedly allowed a stranger to throw her son into the water 'for fun.'
While it looked all games for the parent, most onlookers did not share the same thought as gasps and screams of horror could be heard in the short clip. Even Fawley expressed his disappointment on the matter, and shared how the child landed with his back first.
READ ALSO: This policeman composed a song about Duterte's war on drugs, video went viral
Fawley and other visitors in the area contacted the police after the incident. The mother and the stranger were given citations due to trespassing, since the bridge turns out to be a private property.
Aside from the initial offense, the two were also warned for their reckless endangerment – pertaining to the pushing of the youngster from the three-storey worth of height.
It was not mentioned whether the child sustained injuries from the fall.
READ ALSO: PHOTO: This young woman was allegedly ABUSED by boyfriend in QC; FIND OUT the shocking details
The Facebook user wrote how he hoped that the event would not be easily waived and looked over.
Web users also voiced out their thoughts and most of their comments were targeting the 'sickening' ways of parenting the mother exhibited.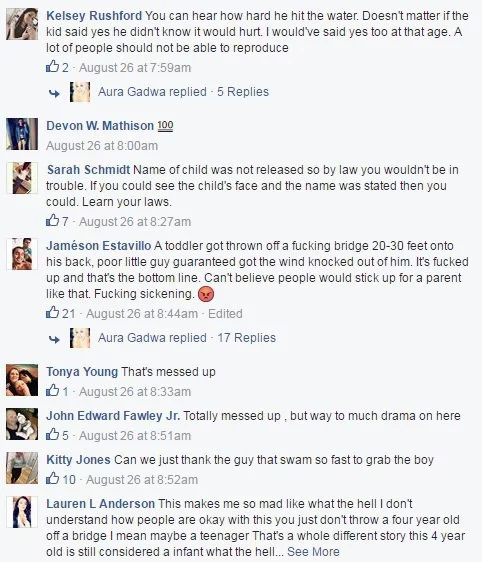 Kelsey Rushford noted the loud sound of the splash when the boy's body hit the water, adding how any child would be unaware of the consequences of the action if he ended up agreeing to the challenge.
READ ALSO: VIDEO: Man sees his WIFE trying to KILL & strangle their 1-year-old son!
Other users claimed how it was a 'messed up' incident, and were dismayed to have a child put up with such parent.
The video has slowly started to become viral following its posting on August 26. It has earned nearly 3,000 shares and captured the attention of several media outlets reporting about the incident.
Source: Kami.com.ph