- The Bank of the Philippine Islands (BPI) requires its clients to update their information before the end of September instead of the initial August 31 deadline
- Their clients expressed their anger given the short deadline and the fact that those who will fail to comply will lose all their electronic access to their accounts
- BPI clarified that this notice only applied to the individuals whom they've notified
Bank of the Philippine Islands (BPI) clarified on Monday night that instead of the August 31 deadline, their patrons can still update their information until the end of September.
The company initially received complaints regarding an advisory they posted on their website and an email sent to their customers last Friday, August 26. Included was a reminder for them to update their information, failure to do so will result in losing all access to their accounts including automated teller machines (ATM), mobile and online banking.
In accordance with the Bangko Sentral ng Pilipinas (BSP) Circular no. 706, clients are required to submit their Customer Information Sheet (CIS) and Foreign Account Tax Compliance Act (FATCA) together with an original copy and photocopy of one valid, recent and photo-bearing ID.
READ ALSO: You may not need to update you BPI info; Here's why
Customers didn't hide their dissatisfaction upon receiving the notice. Given that banks don't operate during weekends and August 29 was declared as a public holiday to commemorate National Heroes' Day, they were only given less than 3 days to comply.
Several users aired their sentiments and bombarded the bank's social media accounts with comments and called their respective branches.
However, BPI Head of Communications Tricia Camarillo-Quiambao explained that they were notifying their clients for months now and denied previous accusations that these were done without any consideration to their customers.
READ ALSO: 10 Inspiring Filipino celebrities who went from RAGS to RICHES
This regulation which was issued on 2011 was implemented to avoid money laundering cases. In addition, only a handful of people who they've notified individually should be affected by this announcement.
Aside from extending the deadline for everyone, the bank also gave their patrons who are based overseas the option to send their requirements via email or snail mail.
As for those who are currently residing in the Philippines, they couldn't do the same and were still required to walk to the nearest BPI branch.
Although most were frustrated by the situation, Facebook user Bernard Allan Tubog found the humor in the situation by creating an event on the social media named, 'Pasahan ng papel finish or not finish, BPI.'
READ ALSO: DOT Secretary: 'Manila-Clark railway plan finally pushing through because of Duterte'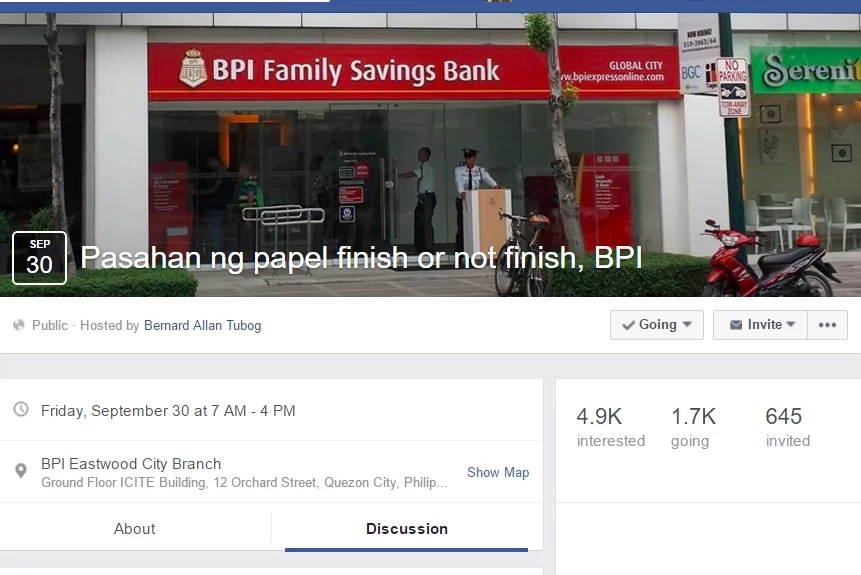 More than 1,700 people were already going to the event located at the Eastwood City Branch of BPI, while more than 4,900 were interested to come.
Obviously, there wasn't an event happening but the humor was still evident.


Aside from security, banks were required to update their clients' information regularly due to an agreement made between the United States. This was to monitor the foreign bank accounts of their citizens.
Source: Kami.com.ph