- President Duterte urged the Chinese people to treat Filipinos as their brothers and not as enemies
- He also urged Beijing to allow the Filipino fishermen to enter the disputed waters and to recognize the arbitral ruling over the West Philippine Sea
- However, Chinese Ambassador Zhao said that China has no plans of honoring the arbitral ruling since it allegedly does not have a legal basis
President Rodrigo Duterte sent a message of peace to China on Monday urging a peaceful resolution to the territorial dispute over the West Philippine Sea.
The President told the Chinese people to treat the Filipinos as their brothers, not foes. He also urged Beijing to be considerate to the poor Filipino fisherman who had been prohibited by Chinese coast guard from fishing in the disputed South China Sea waters.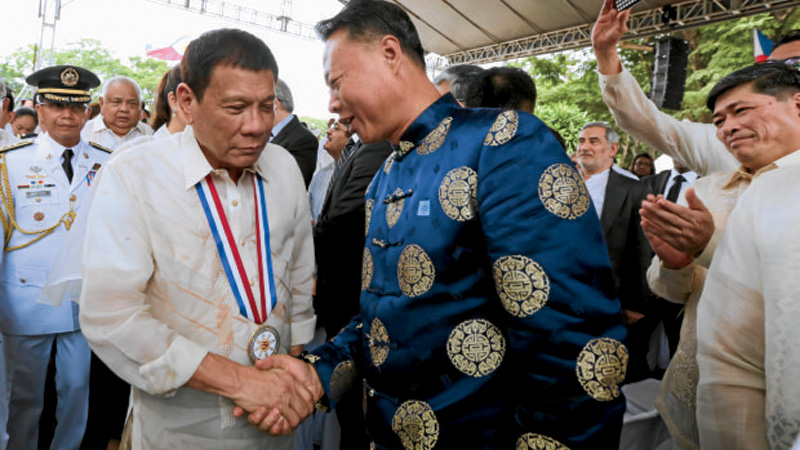 READ ALSO: Duterte: War against drugs is not GENOCIDE
"I hope that you will treat us as your brothers, not your enemies. And take note of the plight of our citizens… (The Filipino fishermen) are there because they are poor," Duterte explained during the celebration of the National Heroes' Day in Taguig City attended by Chinese Ambassador Zhao Jianhua.
As for the ruling from the Permanent Court of Arbitration (PCA) in The Hague, Duterte said that the peace talks between the two nations should consider the judgment which recognized the Philippines' rights over the disputed territory.
READ ALSO: British investors lauds Duterte presidency
However, Zhao said after the celebration that China has no plans to recognize the PCA ruling due to its alleged lack of legal basis.
The PCA ruling declared that China has no rights over the disputed waters and that the country actually violated the sovereign rights of the Philippines.
"Our position [is] that we cannot accept the arbitration award, but we do look forward to talk to the Philippines bilaterally over the topics that we have," the Chinese ambassador told the media.
Zhao added that the two nations should focus on their common interests during the peace talks instead of fighting over their differences. He also said that it is possible for Beijing to look into the possibility of allowing Filipino fishermen to enter the disputed territory.
Many netizens reacted by expressing their support for Duterte's peaceful approach towards the conflict with China.
However, some netizens implied that Duterte only acts tough against fellow Filipinos and to the U.S. government but not to the Chinese leaders.
Other netizens also urged the President to focus more on the West Philippine Sea issue and less on Senator Leila de Lima's alleged drug ties.
Some online users also expressed their belief that China will not listen to Duterte's pleas and will continue to prevent Filipino fishermen from entering the disputed waters. - Kami Media
READ ALSO: Duterte tells De Lima to resign, kill herself
Source: Kami.com.ph