Heat was intensified when a destructive fire, started by a drug addict, struck a residential area in Sta. Cruz Manila, on April 17, 2016, Sunday afternoon.
According to some affected residents, a 31-year-old known drug-user identified as Raphael "Raprap" Rodaje, started the fire.
Raprap's mother, Mrs. Rodaje, said that Raprap has been using drugs ever since he and his wife separated ways.
A barangay fire volunteer named Michael Yacat told InterAksyon.com that Raprap set out a "small fire with wood on top of the table, which grew and spread to the floor."
According to Bureau of Fire Protection Manila, the fire started at the first and second story of Rodae's house at around 11:30 a.m. It was raised to second alarm at 11:42 a.m.
The fire reached Task Force Alpha, which meant that all fire trucks available in the area should respond, at 12:55 p.m. The fire was finally brought under control almost an hour after such alarm.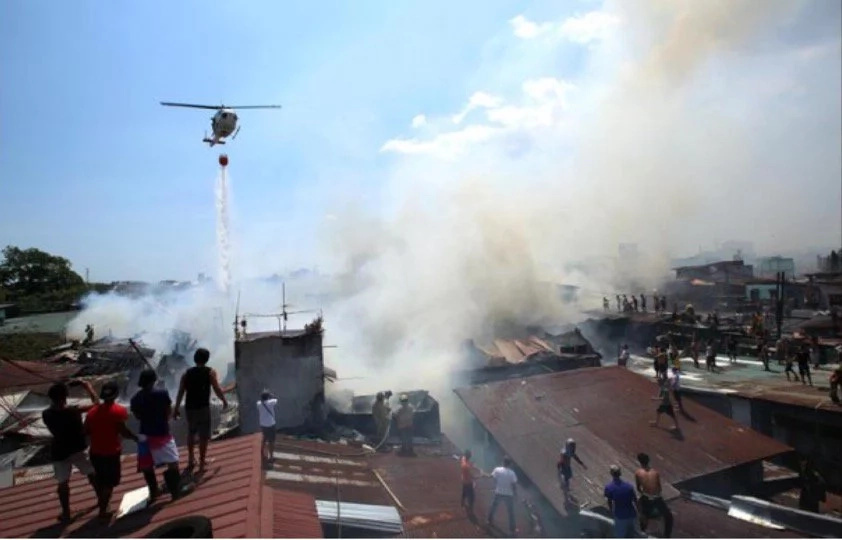 A helicopter from the Armed Forces of the Philippines also assisted in extinguishing the said fire by spraying a fire retardant chemical over the blazing shanties.
The fire affected more than one hundred (100) families' home and lives and caused around P3 million worth of property damage. No one was reported killed nor injured.
A portion of Aurora Boulevard corner Rizal Avenue extension was closed to traffic to provide a place for the families. Victims spent and slept their night along the boulevard as they have no other place to stay.
Meanwhile, a fire razed homes in Barangay Tanza, Navotas City at the same time yesterday. About 1,000 families were affected.
FO3 Junibert Mendoza, fire investigator, said that it took a long time before the firemen got in the area because the streets they need to pass through are narrow.  The fire was put out at about 1:55 p.m. No casualty was reported. Victims stayed in a public school in the city.
Source: Kami.com.ph