The Adamson Soaring Falcons stunned the National University Bulldogs and forced a rubber match via, 23-25, 25-17, 25-21, 25-22 win on Sunday, at the Mall of Asia Arena.
The much taller NU Bulldogs capitalized on their height advantage and attacked Adamson's token floor defense to score on powerful hits in the first set. The Falcons were down by five, 18-13 before they tightened their defense to close the gap at 19-20. However, they surrendered costly errors down the stretch to hand NU the first set.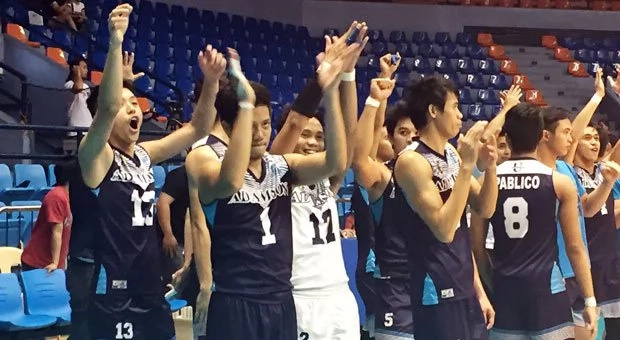 In the second set, the Falcons ran away with an early 14-5 lead via excellent blocking and digging that frustrated the Bulldogs. They never relinquished the lead to claim the second frame. The third set was a back and forth affair, but Adamson was able to maintain a two-point cushion to give his team the win.
The Bulldogs were determined to send the game into a decider as they built an 18-13 advantage in the fourth frame. However, the Falcons clawed their way back in the game to seal the match. NU succumbed to errors in the end game to lose their twice-to-beat advantage over the third-seed Falcons.
Dave Pletado led the way for Adamson with 16 points. Three other Falcons finished in double digits in the winning cause, while setter Nico Ramirez dished out 46 excellent sets.
Madz Gampong led the Bulldogs with 20 points. Rookie James Natividad added 18 markers, while open hitter Francis Saura contributed 10.
The winner-takes-all match will be on Wednesday at the SM MOA Arena. The winner will earn the right to face defending champion Ateneo in a best-of-three affair.
Source: Kami.com.ph