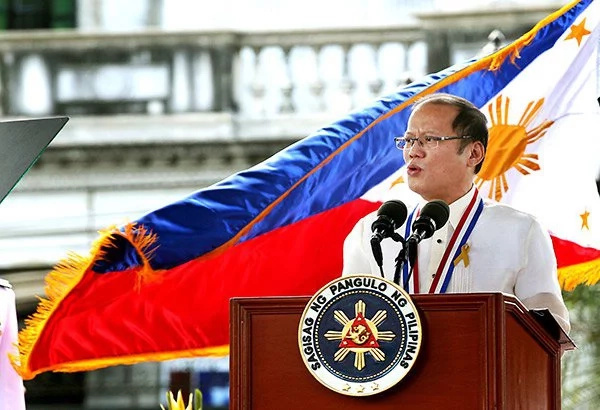 President Benigno "Noynoy" Aquino's net satisfaction rating dropped to its lowest since the first quarter of 2015 based on the latest survey by the Social Weather Stations (SWS).
The results of the survey first posted in the Business World website showed that Aquino had a "moderate" net satisfaction rating of +27, which is four points lower from his "good" rating of +32 for the fourth quarter of last year. For the first quarter of 2015, he got a "moderate" satisfaction rating of +11.
The non-commissioned survey of SWS, with the Business World as its media partner, asked the question: "Maaari po bang pakisabi ninyo kung gaano kayo nasisiyahan o hindi nasisiyahan sa pagganap ng tungkulin ni Benigno Aquino III bilang Presidente ng Pilipinas. Kayo ba ay lubos na nasisiyahan, medyo nasisiyahan, hindi tiyak kung nasisiyahan o hindi, medyo hindi nasisiyahan, lubos na hindi nasisiyahan, o wala pa kayong narinig o nabasa kahit na kailan tungkol kay Benigno Aquino III?" 
The survey, which was conducted from March 30 TO April 2, had 1500 adult respondents nationwide and a sampling error margins of plus-minus 3 points for nationwide percentages.
Aquino had a record-low of "neutral" zero satisfaction in Metro Manila, which is a significant drop from the "moderate" +23 rating from last year's fourth quarter. In Balance Luzon, his ratings remained at "moderate" with a +23 score.
He got the highest satisfaction rating in the Visayas with a "very good" +50, and although he lost a point in Mindanao, Aquino still got a "good" rating of +30.
Nearing the last few months of his term, the president saw a drop in his ratings across all socio-enomic classes.
Aquino got a "moderate" +17 from a "good" +44 among classes ABC. Though the numbers dropped, his satisfaction remained "moderate" with 25+ for class D and "good" for class E with +36.
Malacanang considered the rating "still high" given that the Aquino administration was nearing the end of its six-year term. In a statement, Communications Secretary Herminio Coloma Jr. said: "President Aquino has always worked for the welfare and well being of our Bosses – regardless of survey ratings. He is grateful for the people's unstinting trust in his leadership."
 "We believe in the fairness and vision of our people who will certainly opt for continuity of good governance and attainment of inclusive growth when they cast their votes next month," he added.
Compared with previous presidents, Aquino still scored higher than Gloria Macapagal-Arroyo and Joseph Estrada in their last few months in office, with Arroyo scoring a -53 in March 2010 and Estrada with a +9 in December 2000.
Source: Kami.com.ph