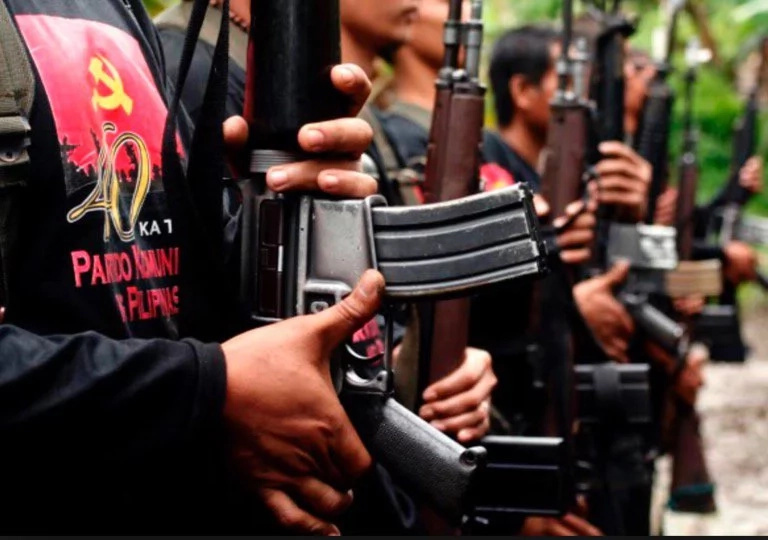 Communist rebels known as the New People's Army (NPA) executed simultaneous raids in the hinterland of Davao City on Sunday, April 17. The group also captured five (5) policemen, including a senior official, and seized at least twenty (20) different weapons.
A group of policemen was in their patrol vehicle when they were ambushed in Sitio Singko, Barangay Mapula by.
The five policemen who were taken are identified as Chief Insp. Leonardo Tarongoy, PO3 Rosenie Cabuenas, PO3 Abdul Azis Ali, PO3 Rodulfh Paceta and PO2 Neil Arellano.
The NPA also seized two (2) 9mm pistols and one (1) .45 caliber pistol from the policemen.
"The POWs will be held in custody pending an investigation for possible war crimes and other crimes against the people and the revolutionary movement," said Rigoberto Sanchez, NPA spokesperson, in a statement sent to the regional newspaper Mindanao Examiner.
The said policemen were on their way to Sitio Quimanao, Barangay Salapawan to investigate a prior attack at 7:00 a.m. on Saturday by sixty (60) heavily-armed rebels from the 1st Pulang Bagani Command led by Commander Jinggoy against an army post under the  72 Infantry Battalion.
Several arms and ammunitions were also taken from them.
According to Sanchez, "the NPA seized nine garand rifles, eight M14 rifles, 78 clips of garand ammunition, 30 fully loaded M14 magazines and other military hardware. By sheer grit and superior command of the situation, the Red fighters were able to take control of the firefight that lasted less than half an hour. Two members of Civilian Auxiliary Force Geographical Unit (CAFGU) surrendered to the raiding Red Fighters while two others fled during the firefight".
"The victorious tactical offensive comes at the heels of the Armed Forces of the Philippines' pompous declaration that Oplan Bayanihan (an anti-insurgency campgain) has weakened the armed resistance of the NPA following the death of beloved Red Commander Leoncio "Ka Parago" Pitao last year", said Sanchez.
"While the entire ruling class presently squabbles in the current reactionary elections, the New People's Army remains steadfast to wage war and address the lasting problems of the Filipino people," Sanchez added.
The New People's Army, the armed wing of the Communist Party of the Philippines, was founded in 1969 by Bernabe Buscayno a.k.a. Commander Dante.
Source: Kami.com.ph