- On August 29, Monday, President Rodrigo Duterte spearheaded the commemorative celebration held at the Libingan ng mga Bayani
- The president pleaded with the Chinese ambassador for the Filipino fishermen to be allowed in the disputed waters
- In his speech, the president reiterated his lack of interest in waging war against China, claiming that he is not ready for war
As President Rodrigo Roa Duterte leads the commemoration of the heroes at the Libingan ng mga Bayani on Monday, August 29, he went on and pleaded the Chinese ambassador to the Philippines Zhao Jianhua to let the Filipino fishermen do their business at the disputed territories in the West Philippine Sea.
"I hope the Chinese may find a place in their hearts for the Filipinos. I hope you treat us [as] your brothers and not enemies and take note of our plight," says the President.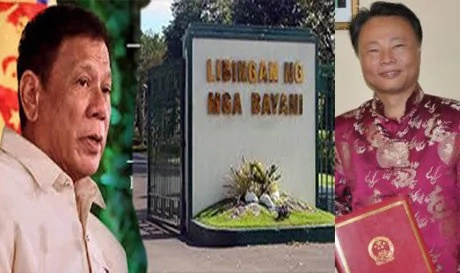 Duterte also said that while the Philippines would eventually be interested in discussing the ruling of the arbitral tribunal, he will not bring up the ruling just yet. Instead, he said, "I will not use the judgment arbitral now but I would, one day, sit in front of your representative or you and then I will lay bare my position. And I would say that this paper, I cannot get out of the four corners of this document."
READ ALSO: 10 THREATS tough talking Duterte made in the past months
Instead, Duterte promised Zhao that he "will never bring the matter because it might lead only to the suspension of the talks in China and that is not good, Mr. Ambassador. So I propose that we just have a soft landing everywhere."
Duterte also clarified that the country is not interested in waging war against China, saying, "For now, Mr. Ambassador, I want to just talk to you for the moment.
"Maybe give us time to build our forces also. You have so much superiority," the president added in jest.
READ ALSO: Duterte asks China to allow Pinoys to fish in the disputed waters
He also urged China to treat the Filipinos as "brothers and not enemies" to which he added,  "I don't go to war. There's always war and peace. If I am not ready for war, then, peace is the only way."
He concluded the speech on a serious note as he reiterated that he would rather seek peace than war. - Kami Media
RELATED: Duterte sets aside talks with China over West Philippine Sea during ASEAN tour
Source: Kami.com.ph