- One Che Bautista took to Facebook on August 26 her stand on the Challenge Accepted Cancer Awareness bandwagon that has been circulating on social media where people would share their photo in black and white
- According to Bautista, whose Facebook post went viral and whose relatives suffered from cancer, the black and photos people are posting do not make the world a better place and do not in any way talk about cancer awareness 
- While some netizens agreed with her, others also explained that cancer should not be pictured only with pain and suffering, rather, look at the magnified hope and strengthened relationship shared with family and friends
READ ALSO: Vince & Grace were set to marry each other; the reason why his bride left him is heartbreaking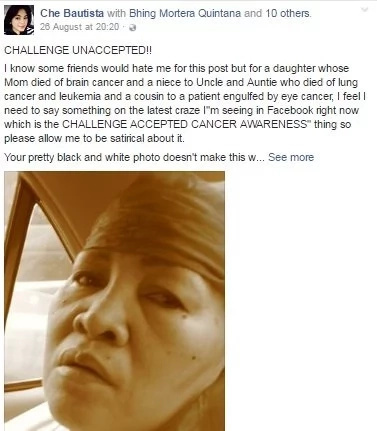 Below is the complete statement of Che Bautista regarding her views on the cancer awareness challenge.
"CHALLENGE UNACCEPTED!
"I know some friends would hate me for this post but for a daughter whose Mom died of brain cancer and a niece to Uncle and Auntie who died of lung cancer and leukemia and a cousin to a patient engulfed by eye cancer, I feel I need to say something on the latest craze I'm seeing in Facebook right now which is the CHALLENGE ACCEPTED CANCER AWARENESS thing so please allow me to be satirical about it.
READ ALSO: Tatay Gilbert loses half of his FACE but he certainly never loses hope
"Your pretty black and white photo doesn't make this world a better place to live in for cancer patients. It doesn't talk about anything about Cancer awareness at all. Does your picture say something about tumor cells metastasizing to other body parts? Does it speak of harmful effects of radiation and chemotherapy? How about the suffering of the patients themselves when you know that your chances of survival is so slim and you could just only hold on to your faith? Does your pretty smiling black and white photo depict how the loved ones and families of cancer patients feel when they are praying for additional years...months...days... seconds just so they could spend more time to show their love for their mom or dad or sister? Does it show the agony seeing your loved one, family or relatives slowly deteriorating and succumbing in the end?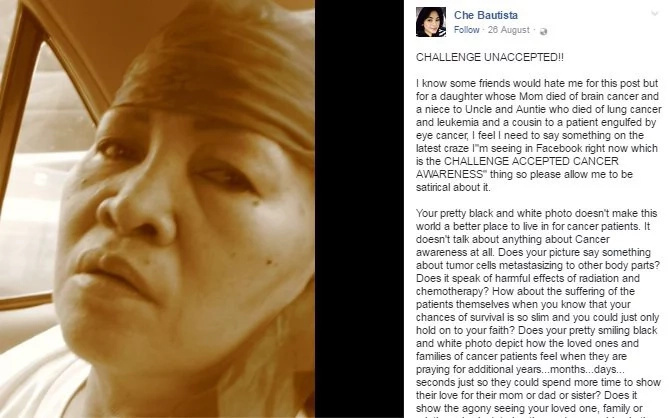 "IT DOES NOT!!...so please let us all be sensitive about this. You don't know how it is to lose someone who died of cancer. You don't know the battle cancer patients undergo just to fight this disease. Rather than posting your dazzling black and white photo which only describes how narcissistic you are....wouldn't it be more relevant if you share informative posts regarding cancer, join groups supporting cancer advocacy, say a prayer to a friend or family battling this illness or donate cash or medicine to less fortunate brothers who couldn't afford to buy their medications instead? Just because its a fad or a craze doesn't mean we have to assimilate and be part of it.
READ ALSO: It was a beautiful wedding until the groom died hours after; still a dream come true
"Kill me for this I don't care!! You may have the right intention to increase Cancer awareness but believe me to those who are directly affected by it...its appalling!!
"Maybe I'm being too sensitive about this but the hell...we are talking about Cancer here, an illness which has stricken too much pain and suffering to my family and I feel I need to say something about this crazy fad.
READ ALSO: Netizens call her Karen Carpenter of the Philippines but wait until she actually sings
"This is a picture of my Mom who died of brain cancer taken after she had her radiation and chemotherapy session. She only lived six months after she was diagnosed. We fought for her til the end. It was one of the most agonizing experience me and my family has ever had so it pains me to see how this sensitive topic is being misconstrued in social media."
Che Bautista encourages everyone to share her post to increase people's awareness on the real picture of a cancer patient.
- Kami Media
RELATED: This Facebook user is lucky enough to date one of the most popular porn actresses; this is how he did it
Source: Kami.com.ph