- A video of a foreigner expressing his views about President Duterte went viral on Facebook
- The man is a suppoter of the president and defended that Duterte is not a human rights violator
- The video already gained more than 25,000views on Facebook
A video of a foreign supporter of President Rodrigo Duterte went viral on Facebook. The man discussed why he supports the president and expressed his views on Duterte, being referred to as a human rights violator.
The man in the video shared his conversation with his friend from America who asked him why he supports President Duterte. He said that President Duterte is not a human rights violater, rather, he is "a man of law, a man of truth."
He also commended Filipinos for being well-informed about human issues such as human trafficking and the oligarchs.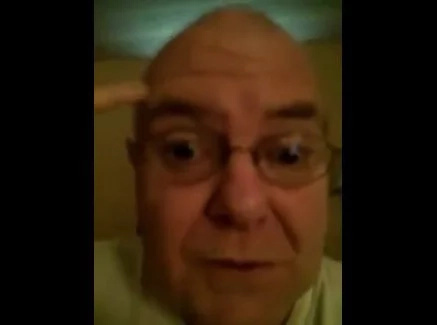 READ ALSO: Fearless netizen expresses sentiments on De Lima and Hontiveros
Netizens were pleased with the man's views about President Duterte. Here are some of the Facebook reactions:
Andy May Juen: "Ur correct sir!and very will said,President Duterte s the most brilliant and with a big hearts 4 the poor people and his d only one who can change our country!!my MALASAKIT AT PAGMAMAHAL SA BANSANG PILIPINAS!!!"
Airotciv B. Alidor: "Thank you sir for saying the truth...really well said about our brilliant president we will support him until the end because we love him...godbless you and the filipino people.."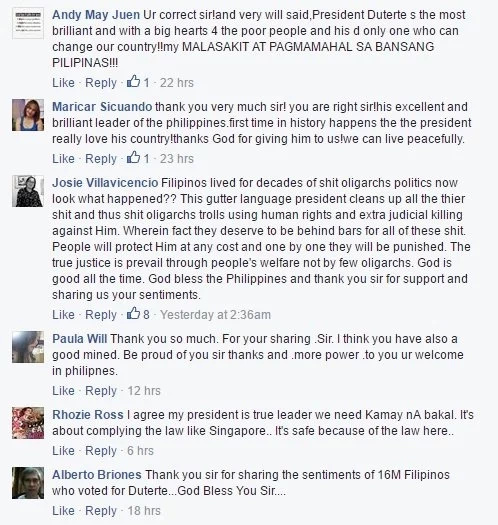 READ ALSO: Duterte to human rights advocates: DRUG addicts are not humans!
Vicki Hombre: "Somebody has sense thanks for speaking out, you are right filipinos know better about whats going on in their country and even outsde of their country."
Shirley Celo Del: "Amen Thank you very well said sir,, buti kpa alam mo kung Ano nakakabuti sa pilipinas .. Yes kailangan nmin ng presidenteng may malasakit sa bayan."
Maricar Sicuando: "thank you very much sir! you are right sir!his excellent and brilliant leader of the philippines.first time in history happens the the president really love his country!thanks God for giving him to us!we can live peacefully."
READ ALSO: Singapore praises Duterte: He can make the Philippines GREAT
The man thanked the Filipinos who stand with him and who accepted him as one of them. He ended the video saying: "President Duterte is a true leader."
The video already gained more than 25,000 views on Facebook. - Kami Media
READ ALSO: Find out what Indonesia has to say on Duterte's war on drugs 
Source: Kami.com.ph