EDITOR'S NOTE: This column contains themes and images that may not be suitable for minors. Parental guidance is strongly advised.
One of the biggest issues dividing the Filipino people in recent months is the aggressive anti-drug campaign spearheaded by President Rodrigo Duterte.
Many Filipinos express their full support for Duterte's bloody drug war, citing the thousands of drug pushers and users who are surrendering peacefully to authorities since the former Davao City Mayor became the President.
On the other hand, many Filipinos are also expressing their concern over the spate of summary killings nationwide. Statistics show that over 1,000 alleged drug criminals have already been killed outside police operations since Duterte assumed office.
Here are some of the most shocking summary killings that have shocked and alarmed many Filipinos in recent months under the Duterte administration.
READ ALSO: Iloilo businessman accused as DRUG lord 'Dragon,' wife KILLED in Aklan!
Danica May
Danica May was a 5-year-old girl who was caught in the crossfire after an unidentified gunman open fired on the girl's grandfather who was accused of being a drug pusher.
The grandfather was shot on the stomach but was able to survive. Danica was shot on the head and died on the spot. The accused – who manages a small eatery with his wife to support Danica -- has denied any involvement in illegal drugs.
Rowena Tiamson
Rowena Tiamson was about to graduate with honors when she was gunned down by "vigilantes." A cardboard was placed near her body with a note accusing her of being a drug pusher.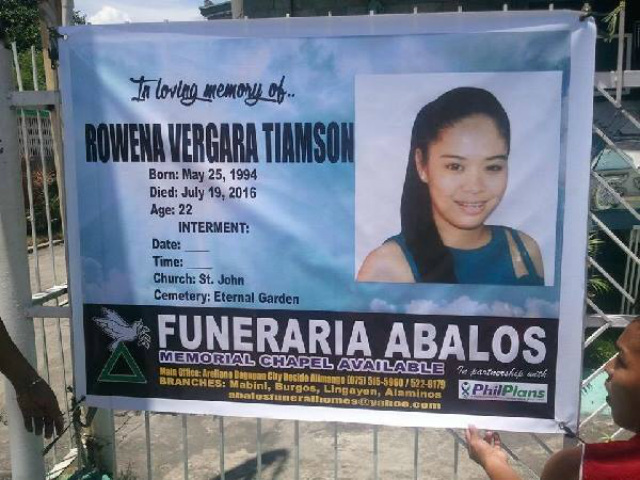 Nobody believed the accusation, not even the police. Aside from being a model student, Rowena was also a member of her church's choir.
READ ALSO: Singapore praise Duterte: He can make the Philippines GREAT
Michael Siaron
Michael Siaron was a pedicab driver who was shot dead in Pasay City on July 22. Pictures of his lifeless body being cradled by his partner Jennilyn Olayres in the middle of the street went viral all over the world.
Olayres admitted that Siaron was a drug user but denied that he was a pusher. President Duterte criticized the viral photos, describing them as "melodramatic."
READ ALSO: Duterte to human rights advocates: DRUG addicts are not humans!
Rogelio Bato Jr. & Angelika Bonita
Bato Jr. was the lawyer of Albuera Mayor Ronaldo Espinosa Sr. – accused of being involved in illegal drugs. According to police, the lawyer was actually a part of the Espinosa drug syndicate.
(Photo: Inquirer.net)
Unfortunately, the lawyer was not given a chance to clear himself. He was shot dead in his vehicle with a 19-year-old girl named Angelika Bonita.
Melvin and Meriam Odicta
The married couple were accused of being the biggest drug lords in Iloilo. PNP Chief Bato dela Rosa even alleged that Melvin Odicta was the infamous "Dragon" – a notorious drug lord.
However, the couple have denied the accusations and have taken steps to clearing their names. Two days after Dela Rosa stated his accusations, the couple were shot down in Albay.
Some people might think that they deserved their fate. But everyone should be presumed innocent until proven guilty by the court of law. These recent summary killings have deprived them of the chance to live fruitful lives and clear their names.
READ ALSO: Catholic bishop issues 'PRAYER for healing' amid extrajudicial KILLINGS
Disclaimer: The views and opinions expressed in this article are solely those of the original author. These views and opinions do not necessarily represent those of Kami.com.ph, its editors, or other contributors.
Source: Kami.com.ph