- Muslim extremists conducted a jailbreak in Marawi on Saturday
- 28 detainees escaped from the local prison during the Maute group's raid
- The Maute group have pledged allegiance to the Islamic State group
Muslim extremists raided the local jail in Marawi on Saturday, Aug. 27, freeing 28 detainees in series of mass escapes.
According to officials, about 50 armed members of the Maute group staged the jailbreak and freed eight comrade detainees who were arrested a week ago when improvised bombs and pistols were found inside their van at a checkpoint.
Provincial police chief Senior Superintendent Agustine Tello added that 20 others who face other offenses also escaped during the jailbreak.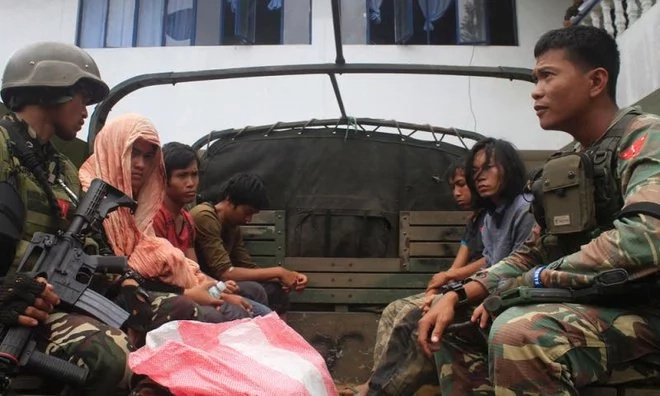 READ ALSO: ISIS threatens the Philippines; Duterte says prepare for attacks
The Maute group which has vowed allegiance to Islamic State group and is one of the Muslim groups in the southern region has staged bombings and kidnappings and is allegedly behind an army outpost attack in Butig in February.
According to the military, during the fight in Butig, the members of the Maute were seen holding Islamic State's black flags and found in their base were bandanas with jihadists' insignia.
The fight which lasted a week left a number of fatalities with thousands of people, being forced to vacate their homes when helicopter gunships started fighting off with the group.
READ ALSO: Duterte: Destroy Abu Sayyaf
Authorities stated that they were conducting investigations to identify the reason why the jail guards were not able to resist the raid on Saturday and why security had not been elevated following the detention of high-risk suspects in the local prison.
The jail raid is the latest mass escape from Philippine jails that are lacking security amidst incidents that involve Muslim extremists.
More than 100 armed men conducted a jailbreak in 2009 in the southern part of Basilan where 31 prisoners escaped, including some Muslim guerillas.
READ ALSO: Abu Sayyaf beheads teen hostage; WATCH Duterte vow to DESTROY terror group!
Muslim separatist insurgency has been invading the southern part of the country for more than four decades, leaving 120,000 fatalities.
Larger rebel groups and the government have agreed on pursuing peace talks while smaller bandit groups such as the Abu Sayyaf and the Maute group are not part of the peace process. - Kami Media
READ ALSO: PH Army scores major victory over Abu Sayyaf; FIND OUT the details
Source: Kami.com.ph