- CBCP President Archbishop Socrates Villegas has issued a prayer for healing amid the spate of summary killings in the Philippines
- Villegas supported President Duterte's anti-drug campaign but expressed concern over the killings
- The prayer will be recited in parishes and Catholic schools from August 30 to September 7
Archbishop Socrates Villegas, president of the Catholic Bishops Conference of the Philippines (CBCP), has issued a prayer of healing amid the dramatic increase of extrajudicial killings in the country.
From August 30 to September 7, the prayer of healing will be recited in parishes and Catholic schools nationwide.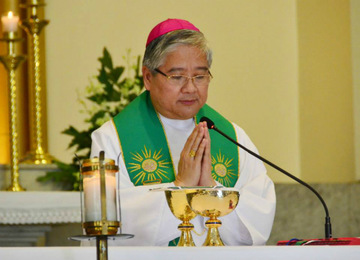 READ ALSO: ADMU President on extrajudicial killings: Respect every person's life
According to Archbishop Villegas, prayer is the Catholics' main weapon against wounds, disunity, crime, corruption and killings.
"Our first armor is prayer. So let us pray even more," Villegas stated.
Despite his support for the anti-drug campaign, the Archbishop expressed his concern about the spate of summary killings nationwide.
"The killings continue to rise…  The indifference to the violations of the Commandments of God is spreading. We must not give up," Villegas added.
READ ALSO: What do Catholic nuns have to say about Duterte's administration?
Here is the prayer of healing issued by the CBCP:
Father of endless mercy, we come to you, a people wounded and torn by issues that have divided us into opposing, bickering, quarreling and even hating factions.
We beg you for unity; we ask for healing; we beseech you to forgive our sins and restore to our land the joy and the peace that you alone can give.
Teach us once more the wisdom of the Scriptures: that the help of man is vain and that our strength is not in princes, but in You.
We pray for the leaders of our nation.
Let them acknowledge your sovereignty, so that they may render due homage to your image that is in all.
Send your Spirit so that the miracle of Pentecost by which all understood each other may prevail over the Babel by which our leaders slur and embarrass one another.
Let tongues of Divine fire settle on them as they did on the apostles so that their words may be words of peace, joy, truth and love.
There is so much hatred, Father, and hatred always kills!
We pray that you purge our country of crime, particularly the heinous crimes of drug-dealing and the endemic corruption that impoverishes our nation.
But grant us too the wisdom to recognize that these evils have their roots in all our hearts: in our envy, greed, avarice and implacable desire for even more. But have pity too on those who have lost their lives in the present purge.
We pray for them, because all life is precious in your sight, and no man or woman is ever so unworthy of the redemption that your Son brought us all! Console their families and show their children the paths of righteousness – as you alone can judge and teach what is righteous!
Finally, we pray for your Church that it may be true to its prophetic vocation, for it is when times our difficult and trying that you ask your Church to be the servant of the nation by speaking Your Word.
Let not our fear and trepidation overcome the zeal for your house and your truth that should consume us. We know our sins. We our humbled by our failings.
But we are also aware that when the prophets of old pleaded to you their sinfulness, you commanded them anyway to proclaim what you wanted proclaimed reminding them that it was not their word that they were to announce but yours.
Forgive our sins in the Church and make us strong in your service so that we may continue to be salt of the earth and light of the world.
Long ago, the woman of Galilee whom you chose to be the Mother of Your Son asked Juan Diego: "Am I not your mother?"
To our Mother's prayers then, in this hour of need, we entrust ourselves.
From her we draw inspiration to be the faithful bearers of the image of Your Son that you called us and set us apart to be. AMEN
After winning the election, President Rodrigo Duterte waged a word war against the Catholic bishops, accusing them of living luxurious lives, having children, and accepting gifts from wealthy individuals.
However, the Catholic bishops did not retaliate and even urged the President to show evidence so that the guilty could be stopped and penalized. – Kami Media
READ ALSO: LOOK: Palace allows Catholic Church protest vs killings
Source: Kami.com.ph