- A video went viral on Facebook  showing two men who claim themselves as policemen, assaulting a truck driver and his passenger
- One of the policemen was seen beating and threatening the truck driver while the other man was possessing a gun
- The truck driver allegedly committed a traffic violation 
Policemen, once again, were involved in a controversy when a video uploaded on Facebook showing two men violently attacking a truck driver and his passenger went viral.
The video shows two men who were claiming that they are policemen, confronting a truck driver who allegedly violated a traffic rule along Barangay Looc, Mandaue City, in Cebu. The man wearing a red helmet was constantly assaulting and threatening the truck driver while a man wearing an orange shirt was seen holding a gun.
A certain Danica Njela Mier Alcontin uploaded the video and asked the netizens to help her find the two men who assaulted the driver and the passenger. She indicated the plate number of the red Honda wave dash in the caption of the video and said in Cebuano: "The driver didn't know the violation he committed and was punched by one of the two men, who looked drunk."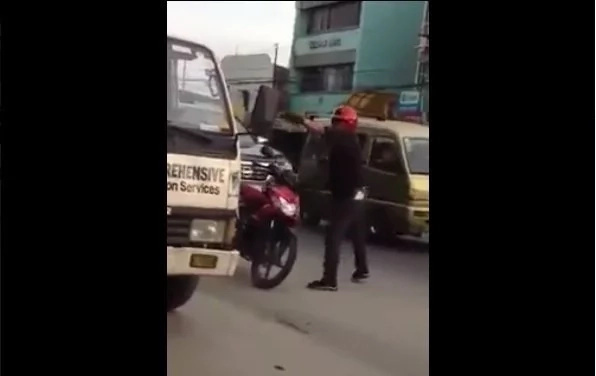 READ ALSO: Real deadly SWORD FIGHT in Negros caught on VIDEO; watch their heart-stopping battle!
Netizens were enraged and disappointed with the policemen involved in the viral video. Here are some of the Facebook reactions:
Olyn Agrava Magboo: "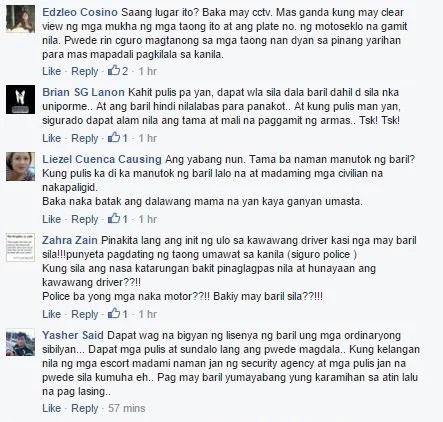 READ ALSO: You wouldn't believe how these security guards handled these violent street children
Joustine Songalia: "
According to Mandaue City Mayor Gabriel Luis Quisumbing, they already sent a copy of the video and hotos taken during the incident to the Mandaue City Police Office for investigation. He said: "Expect improvements very soon. It may take time but mark my words, I will keep this City safe."
The video already gained almost 170,000 views and more than 5,000 shares in Facebook. - Kami Media
READ ALSO: See how this speeding truck hit roadside store
Source: Kami.com.ph