- PNP General Ronald "Bato" Dela Rosa held a conference with the owners of clubs and bars from Taguig and Makati City in line with the national campaign against illegal drugs
- After signing an affidavit, Dela Rosa took a quick stroll in two of the most famous establishments in the city to monitor their activities
- Prior to the meeting, Dela Rosa insisted that their campaign wasn't anti-poor and that they were going to infiltrate the higher tiers in illegal drug trade
Instead of the usual slums and barangays, the Philippine National Police (PNP) chief Director Ronald "Bato" Dela Rosa, together with the Southern Police District (SPD) and Mayor Lani Cayetano of Taguig City, met up with owners of the high-class establishments located in Makati and Taguig City.
After his conference, numerous photos of the PNP general strolling at bars in Bonifacio Global City (BGC) in Taguig City were uploaded on the midnight of August 25, Thursday after he inspected clubs in line with the national campaign against illegal drugs.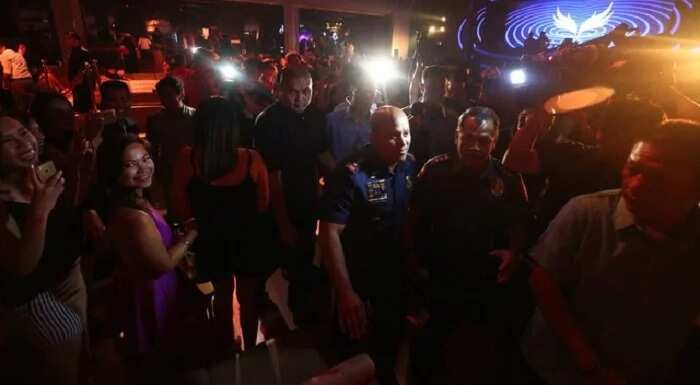 During the conference, Senior Supt. Tomas Apolinario Jr., of the SPD mentioned the owners' first move in requesting a dialogue with the PNP chief.
READ ALSO: 'BURN their houses!' - PNP Chief Dela Rosa tells drug users
Dela Rosa made it clear that he understood the good nature of their businesses and believed that most of the party-goers weren't there to use or sell drugs. But his sympathy ended there as he warned the drug users to "stop or else."
After that, those in attendance signed an affidavit for undertaking a set of guidelines for the joint efforts between the police force and the owners. One of their agreements stated that disguised officers may frequent the bar during special events or whenever they deemed right.
However, the chief director also reminded his officers of their limits and responsibilities. He even told them the obvious fact that they won't be given free drinks on duty. At the same time, Dela Rosa insisted that they should be armed during their visits to do their duties properly.
READ ALSO: 5-year-old girl killed in DRUG war; learn the TRAGIC details
Another condition is for the business owners to hand over closed circuit television (CCTV) footages and photos as long as a written request from the PNP will come with it.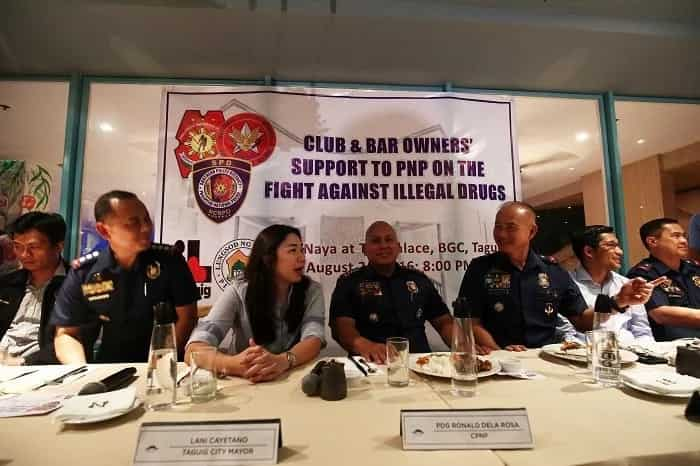 Lastly, employees and personnel of the bars and clubs will be forced to serve as witnesses during police operations conducted in their vicinities.
As early as now, Mayor Cayetano reminded owners that their business permits will be revoked if they fail to comply with the agreement discussed that day. She also expected those who didn't attend to state a valid reason for their absence.
READ ALSO: PNP to Senators: DRUG killings have soared to nearly 1,800
This meeting happened after Dela Rosa denied that their campaign was 'anti-poor' and indicated their next move to bring their forces on the top tiers of drug trade.
Before Dela Rosa's conference, the Philippine Drug Enforcement Agency (PDEA) reported P4 million worth of ecstasy confiscated at the Ninoy Aquino International Airport (NAIA) which were disguised as vitamin supplements. Ecstasy was described as a party drug which is popular among young adults in parties.
Source: Kami.com.ph