Real swordfight in Negros caught on video
- A video of two men in Negros engaging in a sword fight has gone viral
- The two men were able to wound each other with their deadly weapons
- The residents in the area can be seen in the video screaming and panicking as the two men try to kill each other
Many Filipinos have already seen video clips of men trying to kill each other with guns. However, seeing a video clip of a real sword fight with the intention of killing each other is a rarity. That is why a video of a deadly swordfight between two angry men in Negros has gone viral.
The video shows a man holding two weapons which look like swords or large bolo knives and his foe holding only one weapon which also looks like a sword / bolo. The man with two swords made the first move and was able to hit his enemy on the leg.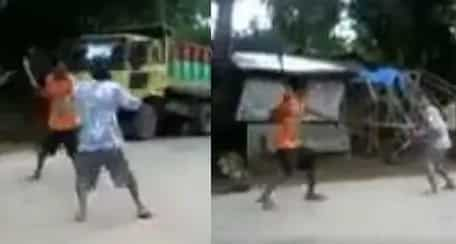 READ ALSO: VIDEO: Trainer beats up ELEPHANTS to force them to DANCE 'Gangnam Style'
The wounded foe retaliated and was able to wound his enemy on the arm. As the two continued to fight each other, the residents in the area surrounded the two men and screamed out of their fear for their safety.
Fortunately, the two men finished the intense battle without anyone getting killed. However, we still do not know the extent of the damage they were able to inflict on each other or why the two were trying to kill each other.
Many netizens were shocked to learn that such a sword fight could still take place in our present times. One netizen even applauded the men for having the guts to engage in a sword / bolo fight.
READ ALSO: VIDEO: Top 5 FUNNIEST Pinoy kids who went viral for making people LOL!
"At least ganito talaga ang matapang, yung iba matapang dahil sa baril," the online user commented.
(At least they showed real braveness. Others are only brave because they have a gun.)
Other netizens advised the government to recruit the two men in their fight against terrorists in Mindanao.
"Ganyan ang irecruit ng AFP, ipapadala sa Sulu, gawing suicide force laban sa Abu Sayyaf," a netizen wrote.
(These are the kinds of people that the AFP should recruit. They could be sent to Sulu as a suicide force against the Abu Sayyaf.)
SHARE this unbelievable video with your family and friends! – Kami Media
READ ALSO: VIDEO: Top 7 funniest Filipino PRANKS that will make you LOL!
Source: KAMI.com.gh