- Chief presidential legal counsel Salvador Panelo wishes Senator Leila de Lima to have a good sleep for she might be suffering from nightmares 
- De lima who will celebrate her 57th birthday on Saturday has two wishes for herself – for Duterte to stop throwing drug allegations at her and to have a love life
- The chief executive had earlier claimed that the new lover of De Lima was named "Warren"
Watch the vide below.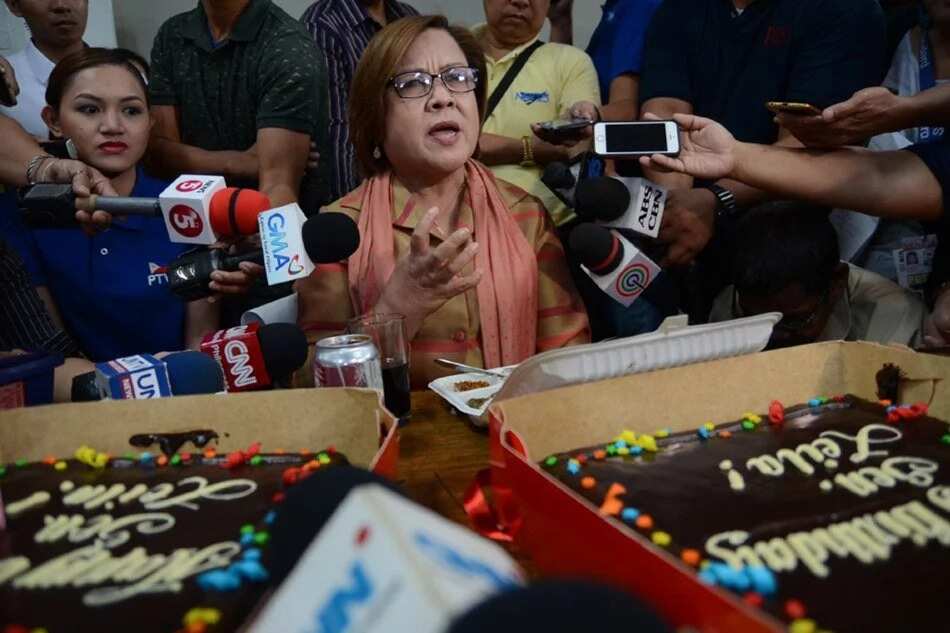 READ ALSO: CHR: Duterte could be held LIABLE by ICC for extrajudicial killings
Senator Leila De Lima will be turning 57 on Saturday, Agust 27. Because where there is birthday there is a wish, chief presidential counsel Salvador Panelo got a birthday wish for the senator – a good night's sleep that is.
"According to President Rodrigo Duterte, Senator De Lima has been having nightmares. So my birthday wish to the good senator is I hope she sleeps soundly tonight and thereafter," Panelo on Friday told reporters in a chance interview.
President Rodrigo Duterte released a drug matrix on Thursday revealing De Lima as the highest-ranking government official to be included in the list along with other personalities who are allegedly involved in the drug operation inside the New Bilibid Prison (NBP).
READ ALSO: See how people react differently on Duterte and De Lima's affairs
De Lima, a former Commission on Human Rights (CHR) chief, denied the allegations noting that the drug matrix of Duterte is garbage. She also hoped that on her birthday, the president would leave her alone to which Panelo replied, "Lubayan? Parang hindi pa yata nag-uumpisa si Presidente. Parang patikim lang ata iyon ah."
(Leave her alone? It seems that the President has not even begun yet. It's like just the tip of the iceberg.)
The country's chief executive noted that De Lima could be experiencing "nightmares" following his revelations against the senator.
READ ALSO: Why Duterte supporters WANT to remove De Lima from the Senate but CAN'T
Meanwhile, De Lima shared two birthday wishes during an interview at the Senate.
First one is that for the president to stop linking her to illegal drugs while the second one is for her to have a "love life."
"Seryoso po ito. Sana tigilan na ako ng Pangulo. Sana he puts an end very soon to this whole madness," she told reporters on Thursday.
READ ALSO: De lima on drug involvement: I'm willing to be shot in front of the President
(This is serious. I hope the President would stop. I hope he puts an end very soon to this whole madness.)
Duterte previously shared his plan to reopen the case on the pork barrel fund scam to which De Lima was reportedly involved. - Kami Media
Video from Trisha Macas
RELATED: De Lima: I hope the President stops attacking me
Source: Kami.com.ph