- The Norseman Xtreme Triathlon in Norway is one of the most challenging triathlon events in the world that only a few get to make it
- Omar Paredes, competed in Norway, and is the first Filipino to complete and finish the race
- He ranked 138 out of 250 participants, where only 160 will get the much-coveted norseman T-shirt
Filipinos are known for their resilience and Omar Paredes just showed the world that Filipinos have what it takes to finish the Norseman Xtreme Triathlon, a race so taxing to the body only a few survive.
While many were training their eyes to Filipino athletes competing in the Rio Olympics, Paredes was busy right across the Atlantic Ocean trying to finish the most challenging type of triathlon race.
READ ALSO: Top 10 Filipino movie quotes that will make you feel everything all over again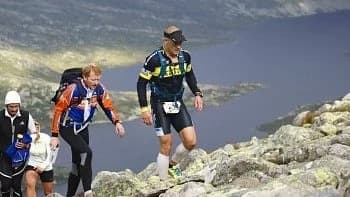 The Norseman Xtreme is clearly among the most challenging considering that athletes were made to swim in 4-km of ice-cold water where the temperatures can drop to only 13 degrees Celsius.
Now if that 4-km swim isn't enough, athletes still need to keep their mind and body strong to finish cycling 180 km which will have them going over five mountains.
READ ALSO: Creepy footage of a strange woman walking on Mars (Video)
That's just two of the events, the last one is the 42-km run with a goal to reach the top of Mount Gaustaoppen.
Among the 250 participants, only 160 will get the most coveted black t-shirt. Athletes are chosen through a lottery system. Out of the 160, Paredes ranked 138, a real achievement for the Philippines!
According to Paredes, it was not him who registered but it was his wife, Laarni. She was the one who wanted him to join.
READ ALSO: Go behind the scenes of 'Kubo and the Two Strings'
Laarni is also a triathlete herself and has gained the distinction and the second Filipina who was able to qualify to the Ford Ironman World championship.
To better adapt to the weather conditions in Norway, Paredes and Laarni flew to the country two weeks before the date of the competition.
Paredes thought that the two weeks would be enough, but he found out that it was not enough to fully prepare him the moment his body touched the icy-cold waters.
He was about to give up but he thought that he wasn't only doing it for himself but for the Philippines.- SD, Kami Media