- A video of a woman supposedly coming back to life after being proclaimed dead in Iloilo had become a viral sensation
- According to reports, even the local health center confirmed her death
- Residents in Iloilo said that the woman asked for turmeric after coming back to life
A video of a woman in Iloilo supposedly coming back to life after being proclaimed dead by doctors had gone viral.
The video shows the confused residents attending to the woman who woke up from the dead before getting embalmed by the resident embalmer. According to reports, the embalmer was so afraid of the woman after it woke up that he actually ran away from her.
The residents of the town also added that the woman was asking for turmeric – a type of ginger used for cooking and for medicinal purposes – when she came back to life.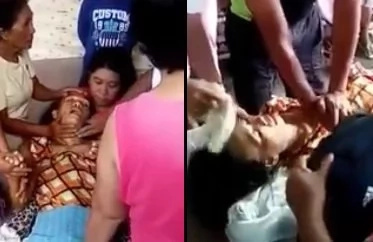 READ ALSO: VIDEO: Trainer beats up ELEPHANTS to force them to DANCE 'Gangnam Style'
The woman's family and friends were actually already preparing for the burial when the miraculous event took place. Even the local health center confirmed that the woman was indeed declared dead by doctors.
Naturally, netizens went crazy over the woman's supposed resurrection from the dead.
Some online users believed that it was a genuine miracle. However, others said that there must be a scientific reason for her supposed resurrection.
Other netizens also claimed to be living near the area, saying that the woman passed away for a second time after coming back to life.
READ ALSO: VIDEO: Giant SNAKE vs scary alligator brutal fight! The ending will SHOCK you
"Namatay din lang naman iyan," a netizen posted.
(She just died again after coming back to life.)
"NAMATAY NA PO SIYA SA BADINAS FUNERAL HOME YAN NANG YARI SA BANATE ILOILO TAGA BANATE PO AKO," another online user claimed.
(She died again and her body is now resting at the Badinas Funeral Home. This video was taken at Banate, Iloilo where I am residing.)
SHARE this shocking video with your family and friends! – Kami Media
READ ALSO: VIDEO: Top 7 funniest Filipino PRANKS that will make you LOL!
Source: Kami.com.ph