Duterte tags Pangasinan as NBP's primary source of drugs
- President Rodrigo Duterte revealed in his recently released matrix that Pangasinan is the New Bilibid Prison's primary source of illegal drugs
- Duterte also tagged several Pangasinan officials that are included in his drug matrix
 - He further disclosed revelations regarding De Lima and her driver's links to drugs indicated in the drug chart
President Rodrigo Duterte revealed in the drug matrix he released yesterday that Pangasinan is the main source of illegal drugs at the New Bilibid Prison (NBP) in Muntinlupa City.
According to Duterte, the governor and the provincial administrator of Pangasinan during the previous administration were the persons pulling strings under Senator Leila De Lima's protection.
Included in Duterte's chart were Former Pangasinan Governor Amado Espino Jr. who is now a congressman, provincial administrator Rafael Baraan who is under suspension, and former justice undersecretary Francis Baraan.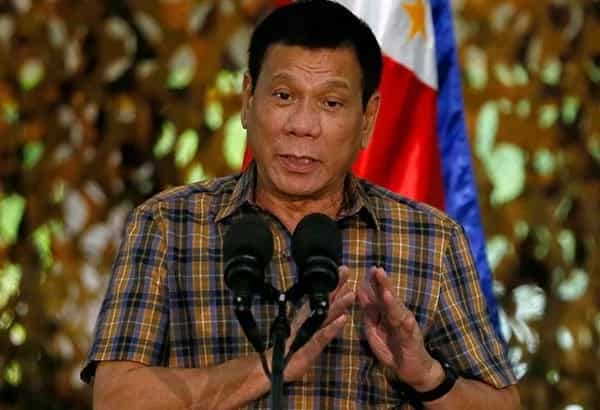 READ ALSO: Duterte releases DRUG matrix; tags De Lima, governor, general & other officials!
Urbiztondo, Pangasinan mayor Raul Sison was also tagged in the list, together with former Bureau of Corrections chief Franklin Bucayu and Senator De Lima's controversial driver, Ronnie Palisoc Dayan.
President Duterte indicated in the matrix that when De Lima was still the Commission on Human Rights, she and Dayan were having an affair. He further revealed that Dayan received monthly payola from Beuro of Corrections chief Bucayu through a certain Senior Police Officer 1 Palisoc.
Duterte also said that Dayan was De Lima's link to NBP drug lords who were manufacturing and operating illegal drugs inside the prison during her term as Department of Justice secretary. Described in the matrix as "a known drug user in Urbiztondo", Dayan was given house and lot, vehicles and money from De Lima as indicated in the matrix.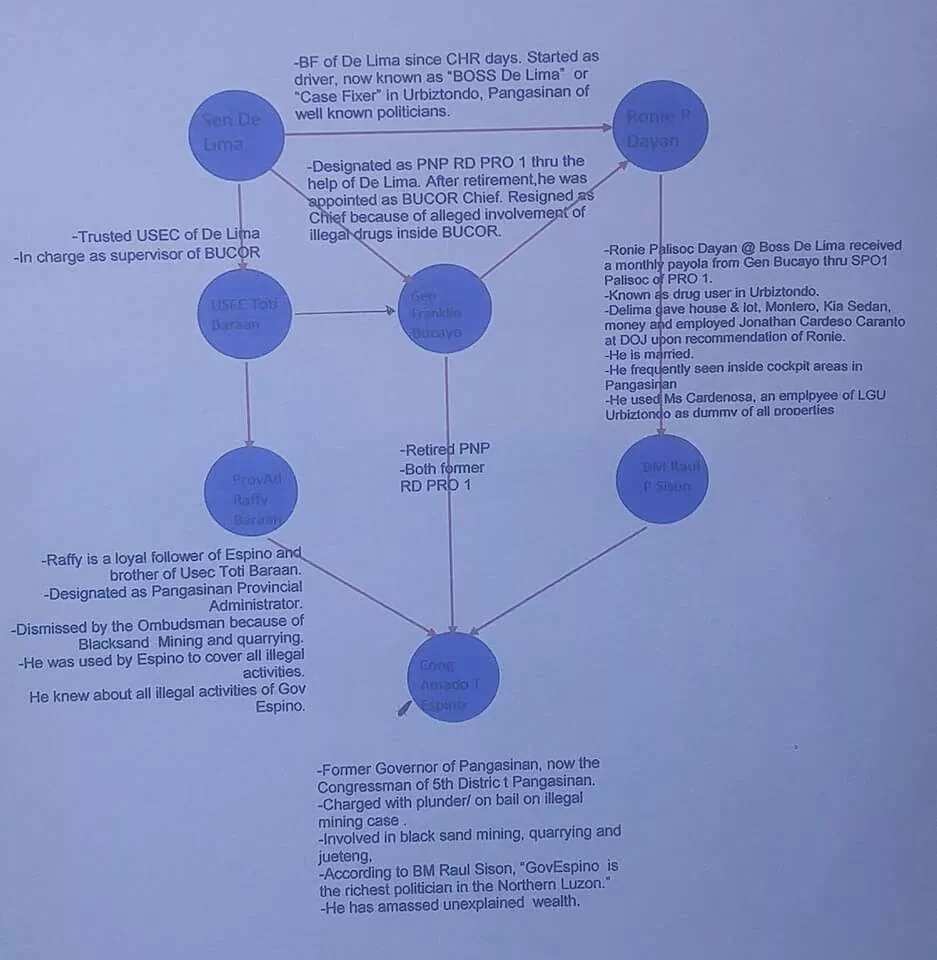 READ ALSO: Is Duterte's drug matrix another joke? De Lima releases OFFICIAL STATEMENT
Duterte did not further disclose the sources of the information indicated in the matrix which he released 3:30 in the morning yesterday after reporters cornered him in Magsaysay Park. He had sent somebody to his house to get the drug matrix.
During a press conference in Davao City, Duterte told De Lima that her political career is over and said: "De Lima, you are finished. You are done. Now, the truth is out. The cat is out of the bag." - Kami Media
READ ALSO: Dayan's sister claims 'white house' in Pangasinan is HERS, not her brother's or De Lima's!
Source: Kami.com.ph