Brutal street fights in Thailand similar to Fight Club
- Joe Nok has been organising street fights similar to fight club
- Authorities have been investigating the fights, given its brutality and danger
- However, organizers say that the fights are legal and are kept as safe as possible
Videos have surfaced of shocking "fight-clubs" where children as young as 16 fight for entertainment.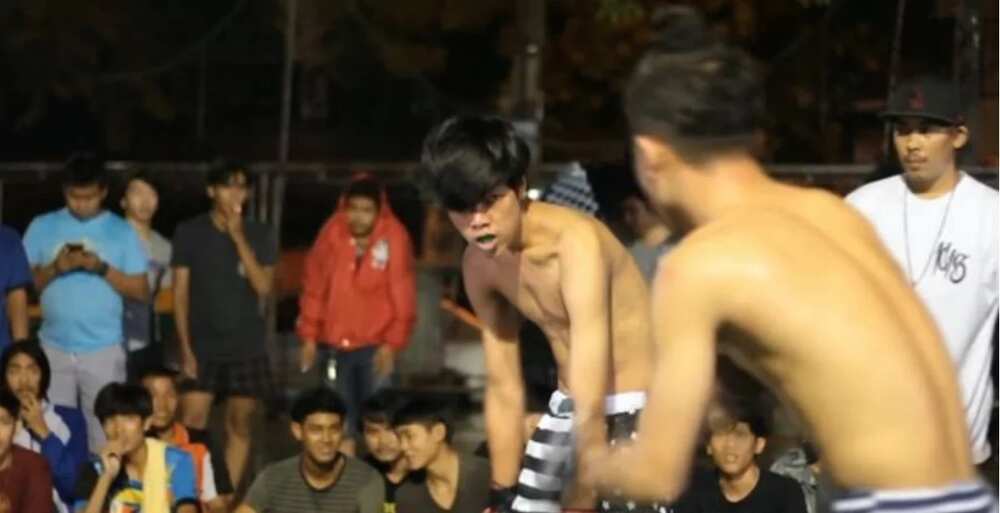 In the streets of Bangkok, Thailand, an underground society of shirtless amateur fighters have surfaced. Hundreds of people flock during the night to watch young boys fight in terrifying street boxing matches.
READ ALSO: VIDEO: Sandra Cam THREATENS De Lima; vows to expose her darkest SECRETS!
Given the brutality of the fights, the authorities have launched an investigation after an anonymous tip from concerned citizens told the police about bloody street boxing.
According to the fight's organizer Joe Nok, there is nothing illegal about the night boxing. He claimed that the boys who were fighting have consented and are simply "aggressively sparring." Nok further added that the crowd loves the games and the fighters are brave for stepping into the ring.
"The police spoke with us and said it's a bit dangerous because we fight on the floor without mats. But this is more like sparring and not an illegal match as there is no winner or loser declared. It's just like fitness training, so we are allowed to carry on," Nok said.
READ ALSO: What they do in those countries with ladies is shocking. 7 top dangerous places for women
The organizer also said that the fights are made as safe as possible, with medics on standby in case of emergencies. Young teenagers suffer cuts, black eyes, and broken bones during the fight, as the competitors wear no protective gear.
"The fights are aggressive but they are safe. We have a referee to make sure nobody cheats and there's always a medic watching in case anybody gets injured," Nok said.
The fighters are composed of everyday people, who have normal day jobs. They battle in a ring of concrete, lasting for three minutes before the fighters are separated.
The brawlers are allowed to use moves from Jujitsu, Judo, Muay Thai, and other martial arts.
READ ALSO: Are people getting tired of Pokémon GO? Developers fight back with updates
According to Commissioner Sanit Mahathavorn, the authorities would be investigating whether the fights are illegal, given the danger posed to the fighters. If the police deem the night matches against the law, the organizers could face jail time up to a year and a 440 Euro fine. - Kami Media
Source: KAMI.com.gh