- President Duterte's war on drugs resulted in extra-judicial and vigilante killings of 1,800 Filipinos
- Now, the international community has taken notice, and international groups are protesting the spate of killings of suspected drug pushers and users
- Protesters have gathered in front of the Philippine consulate in New York carrying signs that say, "Duterte is a mass murderer"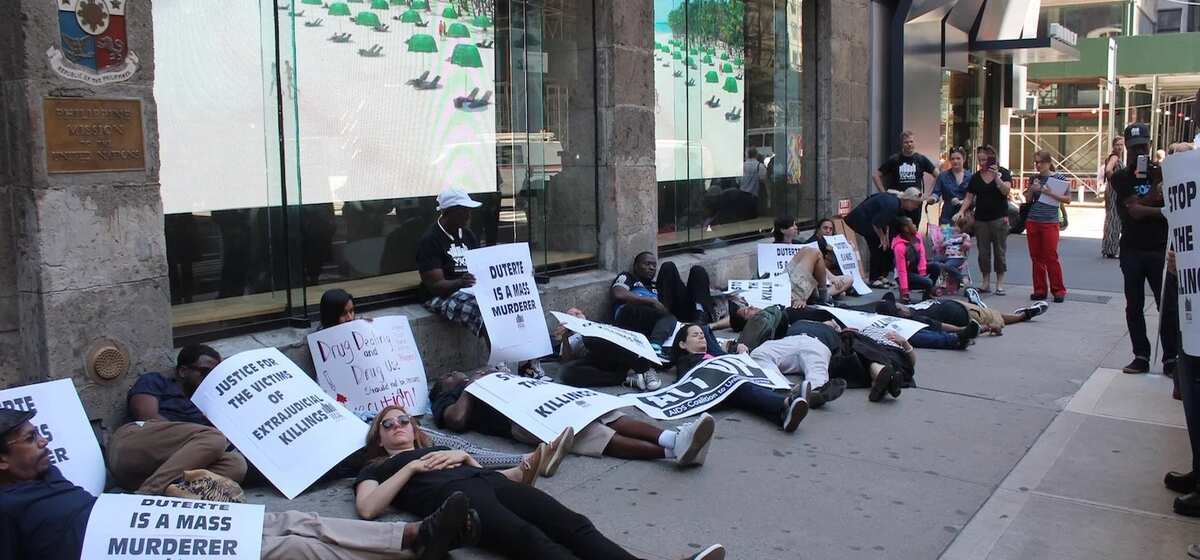 Barely two months in office, President Duterte already has international protesters gathering outside the Philippines' consulate office in New York City. Protesters coming from different groups decry Duterte's war on drugs, which has left a record of 1,800 extrajudicial killings.
Various group that staged the protest included ACT UP, Treatment Action Group, VOCAL New York, Damayan Migrant Workers Association, Harm Reduction Coalition, New York Harm Reduction Educators and Health GAP.
READ ALSO: Atty. Fortun: Stop massive disinformation
The protest wasn't only held in New York, but similar protests were likewise held in Washington, DC and San Francisco.
Protesters were seen staging a "die-in" position right in front of the Philippine consulate. Names of the victims were secured by protesters and were called out while they were in that "die-in" position.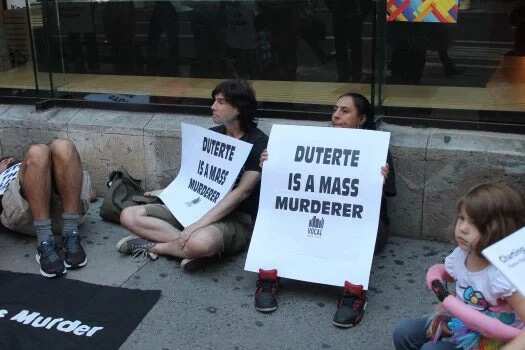 While they were protesting, one of the staff of the consulate stepped out and talked to them. One staff, whose name was withheld, likewise expressed solidarity with the protesters.
Linda Oalican, the executive director of Damayan Migrant Workers Association, expressed her "message" to the President.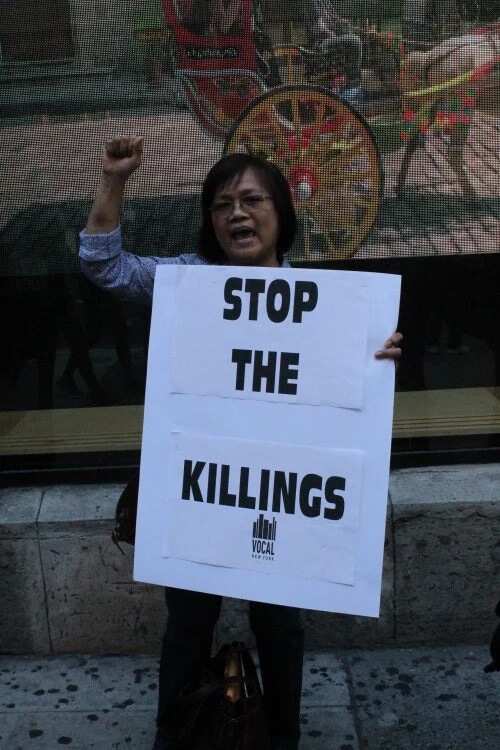 She said that she supports some of the things that the President is doing such as releasing political prisoners and activists who fought the Marcos dictatorship.
READ ALSO: 'White house' in Pangasinan is Dayan's sister's property
However, what Oalican detests is the government's manner of curbing drug addiction. She asked the president to "think about the poor people who have no jobs and who are really desperate and hopeless."
Her contention was that these poor individuals, because of poverty, become vulnerable, which often leads them to turn to drugs.
According to Oalican, because the President "have advocated for the extrajudicial process of getting rid of these people," they became victims of vigilantes. She emphasized the number of Filipinos killed from the time that Duterte sat in office, which numbered to 1,800 Filipino lives.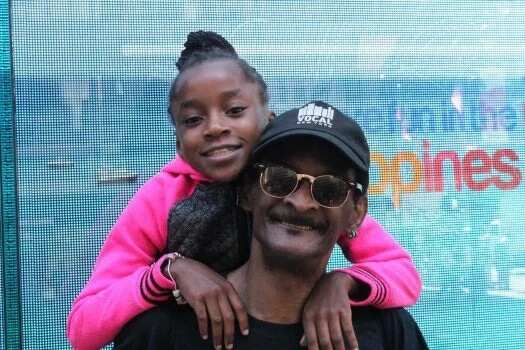 (Photo credit: Patrick Hilsman/theinfluence.org)
"We all thought we had it bad with the drug war here in America, with people's rights being violated on a regular basis," said Bobby Tolbert, board member of VOCAL-New York, who was among the protesters outside the Philippine consulate.
READ ALSO: Gibo Teodoro refused DU30's defense post offer twice
"We had no idea, now that there is a new approach to drug use in America, that it had gotten so bad where officials were taking the lives of their citizens," Tolbert added. – SD, Kami Media
Source: Kami.com.ph