- A man was caught by MRT authorities as they caught him in the act vandalizing the door panel of the train
- Angelo Suarez, a commuter activist, was brought to the precinct by the authorities
- In his defense, Suarez said that he only saw the writing and he was not the one responsible for it
Authorities of the Metro Rail Transit Line 3 (MRT-3) arrested a man who was caught vandalizing the door panel of the train last Tuesday night.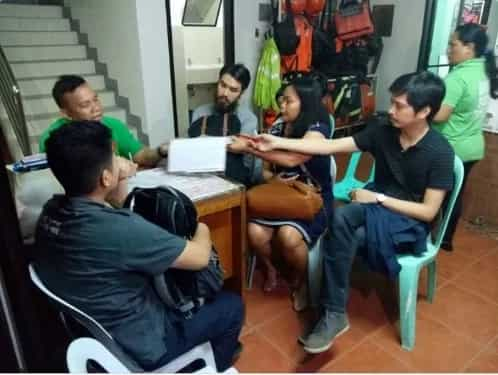 According to the man arrested who was identified as Angelo Suarez, convenor of Train Riders Network (TREN), authorities of MRT detained him for almost two hours without presenting any evidence of him destroying the image of the property.
Around 9:30 p.m., a guard on duty named Roseilyn Gambrajo caught Suarez in the act while he was writing the words "MRT bulok" (MRT corrupt/sucks) on one of the panels of the train which was on the way to Quezon Avenue from Kamuning. Gambrajo called the attention of the suspect who then threw the pen on the footbridge of the MRT.
READ ALSO: Video showing how it's like to travel thru PNR went viral; what they did will shock you!
Moreover, the MRT guard was able to take photos of what Suarez did, however, they did not show it to the media.
Suarez defended himself as he narrated that he only saw the writing but was not the one responsible for it. He further said that when he got off the train on Quezon Avenue, a guard was following him and talking about him to other guards. Following that, he was taken to the MRT office and asked to wait for an official for hours.
"We were detained and we felt harassed," Suarez said.
READ ALSO: 5 types of jeepney ride that annoy every Pinoy
Meanwhile, a statement by youth group Anakbayan defended Suarez and compelled the action taken by MRT.
"His arrest is a clear case of harassment against protests vs #MRTBulok and privatization of train services. He should be released immediately and unconditionally. Whatever charges are filed are clearly baseless and should be dropped," the statement read.
READ ALSO: MRT man posts apology on Facebook
Suarez was brought to the precinct, where he will be detained until Wednesday. MRT authorities refused to release a statement regarding the case, but they are already waiting for the fiscal who will be handling the issue. – Kami Media