Diaz receives more rewards from AirAsia and Congress
- Hidilyn Diaz made the Philippines proud by winning silver in the women's 53kg weightlifting division in the recently-concluded 2016 Rio Olympics
- The weightlifter has been given another blessing in the form of free flights from AirAsia for five years along with other athletes coming from ASEAN countries
- On the same day as this announcement, the House of Representatives offered her a congressional medal and a P1.5 M incentive 
Blessings continue to pour for Olympic medalist Hidilyn Diaz, who has now received free flights from budget airline AirAsia.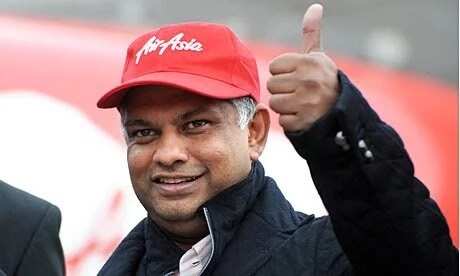 The perk also applies to other medalists coming from ASEAN countries.
AirAsia's CEO, Tony Fernandes, took to Facebook yesterday to post his offer to the winners of the recently-concluded Olympics in Rio de Janeiro, Brazil.
READ ALSO: Philippines wins first medal in Rio Olympics thanks to Hidilyn Diaz
According to him, gold medalists will receive free flights for life, while silver medalists will have five years' worth of free flights and bronze medalists will receive two years.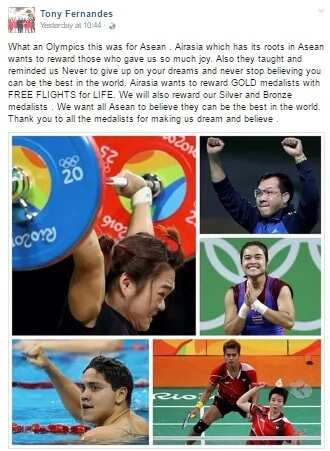 On the same day as Fernandes' offer, the House of Representatives gave her a P1.5 M incentive along with a congressional medal. According to Zamboanga City Representative Celso Lobregat, the incentive was the collective effort of solons who wanted to give her a token of appreciation for her podium finish.
Diaz has broken the drought of Olympic medals for the Philippines, winning silver in the women's 53kg division in weightlifting.
READ ALSO: Five things you need to know about Rio Olympics silver medalist Hidilyn Diaz
She is part of the 10 silver medalists included in the list of ASEAN winners, while there are five gold medalists and three bronze.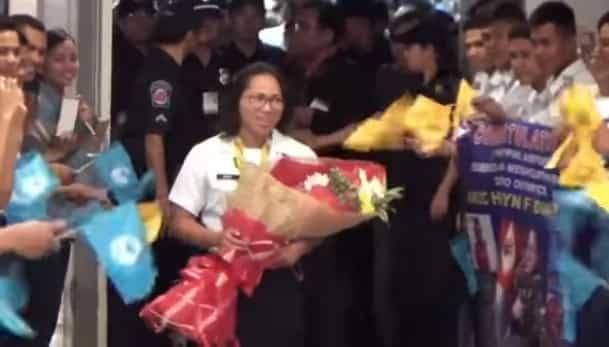 Aside from having a welcome fit for a beauty queen in her hometown of Zamboanga City, she also received a P5 M grant from the government an additional P2 M from the president himself.
Neophyte senator Manny Pacquiao, who heads the Senate sports committee, has expressed that he wanted to reward her with 'less than P5 M' in cash as well.
READ ALSO: Pacquiao to award ₱5M to Filipinos winning gold in Rio
Her non-monetary awards include recognition from various sectors and a promotion from the Philippine Air Force (PAF).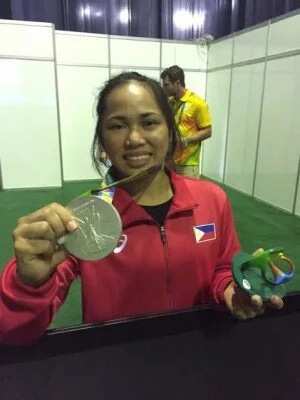 She may as well be the luckiest woman in the world - not only did she bring honor to her country, she also received blessings one would not normally get if she did not work hard for her achievement.-Kami Media
READ ALSO: Hidilyn Diaz to receive P5M from PH government
Source: KAMI.com.gh