#HotDogChallenge Girl goes viral
- A pinay posted a video of a girl lip-syncing to a Mocha Girls' song "Hotdog"
- Towards the end, the girl bites on a hotdog while still doing a lip sync
- Netizens had positive reactions to this new challenge
Filipinos are very fond of taking on challenges such as the #IceBucketChallenge, #TrumpetChallenge, and the most recent one #PakGanernChallenge. Now, Filipinos has something new to look forward to.
On August 25, Facebook user Meriam Tantay Albaniel from Bacoor, Cavite posted a "goodvibes" video on her timeline. According to her, she was so entertained by the girl on the video because she is the "sweet version" of #DyogaGirl.
#DyogaGirl became instantly famous on Facebook because of her videos featuring her big boobs. One of her recent videos was about her own take on the viral "Pak Ganern" game.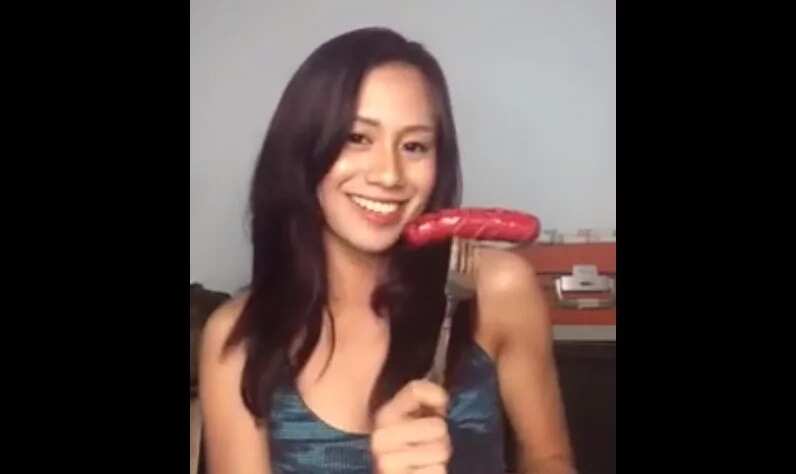 READ ALSO: PH Army dances to #RunningManChallenge; their steps prove that soldiers can be dancers too
Albaniel named the girl on the video as Myka. She also referred to her as #BabyGirlMyka. It's rather unusual, however, that Myka didn't post it on her own account and that someone else did. She also hasn't said anything yet about her video being shared online.
Myka is lip-syncing to Mocha Girls' song "Hotdog," which is actually a profane song about the male genitalia.
The video is a minute and-a-half long with Myka being sweet and flirtatious while looking directly at the camera.
READ ALSO: Top 5 Best #PakGanernChallenge videos
Towards the chorus part, she brings out a hotdog using her fork. She also showed an egg in the screen when the song lyrics were "mas masarap kung may itlog" (it's more delicious if there's an egg.)
Before the video ended, Myka bit a part of the hotdog she's holding.
Netizens were delighted upon seeing this girl eating a hotdog while lip-syncing to Mocha Girls' song. They claim to have had good vibes after watching it and that they immediately wanted a hotdog.



READ ALSO: Is this the new 'Trumpets'? Sarah G returns onstage with a new dance craze!
Others even nominated some of their friends just for the laughs. Will they actually do it though?


Some have even compared Myka with #DyogaGirl saying that she has matched her 'Pak ganern' video with this.


Check out her hotdog-biting and lip-sync video below:
READ ALSO: [WATCH] Sexy guys 'kembot' to #TrumpetsChallenge
What do you think of this new trend? Are you brave enough to do a #HotdogChallenge and post in on your social media accounts? -Kami Media
Source: KAMI.com.gh