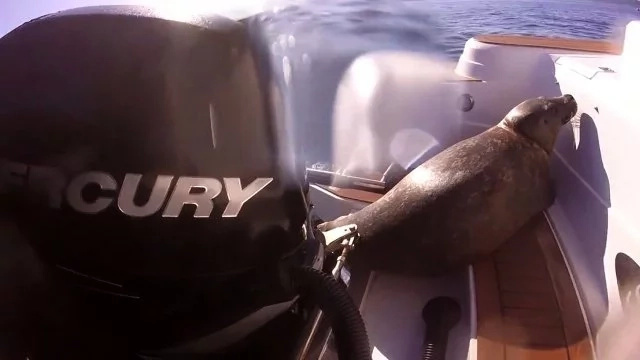 -  A group of people were on a boat watching killer whales when all of a sudden they noticed that the whales were hunting
- Their victim was a seal that was being tossed around the water 
- However, the seal outsmarted the cetaceans by jumping onto the boat of the humans and thus escaping death
This little seal escaped a group of killer whales by jumping onto a boat!
A small group of people were watching killer whales when suddenly they noticed that the whales were hunting a seal.
READ ALSO: 6 disgusting videos of what youtubers have done to McDonalds
The people on the boat watched as the killer whales chased a seal around tossing it in the water. However, the seal outsmarted the violent predators by jumping onto the board of the human's boat.
Just as the seal jumps back into the water it immediately sees that option is not a viable one. It clambers back onto the boat of the humans and huddles far away from the boat's engines.
READ ALSO: Abnormally strong cannibal kills couple in Florida!
READ ALSO: Watch this cute pornstar sky dive with no clothes on!
Source: Kami.com.ph