10 reasons why Ian Veneracion is the ultimate DILF
Ian Veneracion started young in the showbiz industry. He has already been acting since 1992 in various television shows and films. Now that he's 41 years old, from a mestizo teenager he has turned into a total dreamboat!
Lately, all the spotlights have been pointing towards Ian Veneracion and here are ten reasons why we think so:
1. Good looks
You can't deny that Ian Veneracion can make anyone swoon with his charm, smile, and handsome face. He doesn't look 41 at all right? Just try to stare at his picture without getting kilig.
READ ALSO: 19 #HotDaddies in local showbiz
2. Staying fit and sexy
Ian isn't just a pretty face; he also has a fit body. He tries his best to stay healthy and young by doing boxing, lifting weights, playing basketball, and doing lots of cardio.
3. He looks good in anything
Whether it's formalwear with a suit and tie, or just keeping it casual with a simple polo shirt; he can totally rock anything.
4. He can paint!
His father, Roy Veneracion, was a well-known painter. That's why it's no wonder that Ian inherited this amazing talent.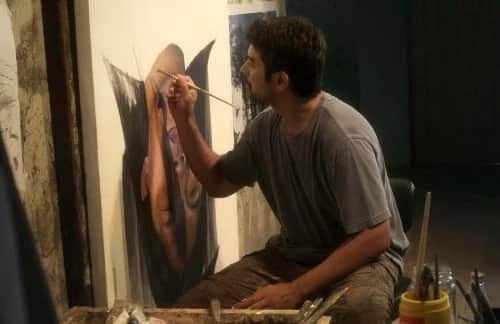 READ ALSO: 7 Filipino HOTTIES who paint incredibly good
5. Can play the guitar
Ian is very talented and you can say that he's totally good with his hands. Not only is he good in painting, he is also good at playing the guitar!
6. Skateboard skills!
Who would've had thought that this 41-year-old daddy can skateboard? Watch him show off his moves while "chillin' at home."
7. He's a pet lover
In this video, Ian states that his official Instagram account is "ianveneracion1" and also introduces his dog Stevie! Aren't you just jealous of Stevie?
READ ALSO: WATCH: "Achy Breaky Hearts" Trailer Will Break Your Heart To Two
8. Rides the bicycle
If he can look hot wearing a suit and tie or a simple polo shirt, he definitely looks cool in biking apparel! He just oozes awesomeness wearing a black jacket while driving his motorbike.
9. Cool dad
What's cooler than his black jacket is his close connection with his kids. Ian makes sure to spend quality time with his kids whether it be fishing, basketball, or riding motorbikes.
10. Daredevil
People may not know this about Ian, but he is an adventure-seeker. He likes the thrill of doing risky activities such as hiking, spelunking, and even skydiving!
READ ALSO: WATCH: Celebrities open up about their mental health problems
Source: KAMI.com.gh