- The circulating video and images of the injured Syrian boy were claimed by China as fake and part of Western propaganda
- According to CCTV, the images are aimed to create a humanitarian excuse for the West to intervene in Syria
- China has been working on its relations with Syria along with Russia and Iran
The horrifying images of the injured Syrian boy Omran Daqneesh circulated in social media and earned sympathy from citizens all over the world as the poor boy portrayed the atrocities of war in Aleppo, Syria.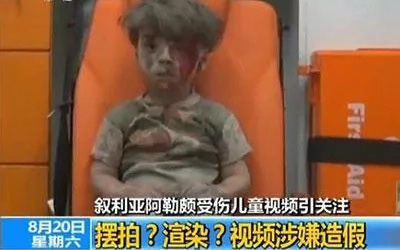 Despite this, the Chinese state television was not convinced of the terrible fate of Omran and considers his images as fake and part of a 'propaganda war' which will enable Western intervention in the country's civil war.
The viral footage of the rescue was shown by the CCTV, China's state broadcaster, with the subtitle 'Video suspected of being fake'.
READ ALSO: For the first time since the Cold War German citizens are told to stockpile food and water!
According to the voiceover to the Saturday's report, as translated, "Critics have suggested that [the video] is part of a propaganda war, aimed at creating a 'humanitarian' excuse for Western countries to become involved in Syria."
One of their arguments for inauthenticity of the video is that the rescuers were not moving rapidly and instead of saving the people first, they prioritized to set up their cameras.
Moreover, CCTV questions the role of the 'White Helmets' who were working with the Syrian Civil Defence Group during the rescue.
READ ALSO: Another haunting death brought by war: Older brother of iconic Syrian boy dies
These allegations made the Chinese media followed the comments made by the Russian military which supports President Assad and has been accused of killing thousands of civilians through its air strikes in the country, particularly in Aleppo.
Aside from China and Russia, Syrian activists have been claiming that the photographer who took the images of Omran has links to an extremist group that allegedly beheaded the child earlier this year.
China has been working on its improved relations with the Syrian regime alongside Russia and Iran. It was reported that a leading official from China travelled to Damascus last week.
READ ALSO: Resolution seeks to BAN Donald Trump from entering PH over 'terrorists' remark
As reported by the state media, Guan Youfei, director of the Office for International Military Cooperation, has a meeting with the Syrian Defence Minister and a Russian General.
"China and Syria's militaries have a traditionally friendly relationship, and China's military is willing to keep strengthening exchanges and cooperation with Syria's military," said Youfei. – Kami Media
Source: Kami.com.ph