- There is a disparity on how netizens react on President Rodrigo Duterte and Senator Leila De Lima extramarital affairs
- Duterte revealed that De Lima has an illicit affair with her driver, who allegedly collects drug money from the drug lords in the New Bilibid Prison
- Duterte admitted before that he has two wives and two girlfriends and that his first wife, Elizabeth Zimmerman, divorced him for he is a womanizer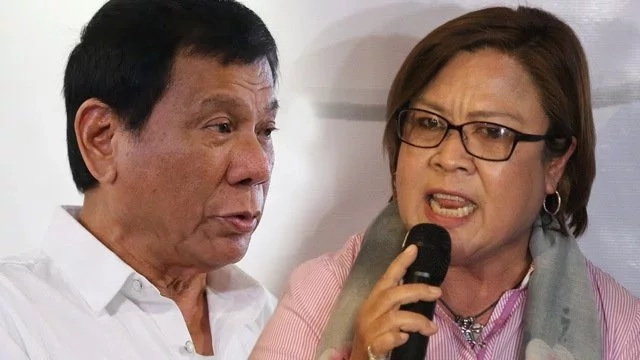 In the never-ending spat between President Rodrigo Duterte and Senator Leila De Lima about the latter's alleged illicit affair with her driver, it seems that there is a big difference on how netizens react on De Lima and Duterte's affairs.
Last week, Duterte made a shocking revelation that Sen. De Lima has an illicit affair with her driver, Ronnie Palisoc Dayan. The president added that Dayan collected money from the drug lords in the New Bilibid Prison to be delivered to De Lima. This is all denied by De Lima in her press conference. However, the netizens already started calling the senator as an adulterer and a drug protector.
An inquiry was formed in the House of Representatives to investigate De Lima and Dayan's connection to the drug lords in the maximum security.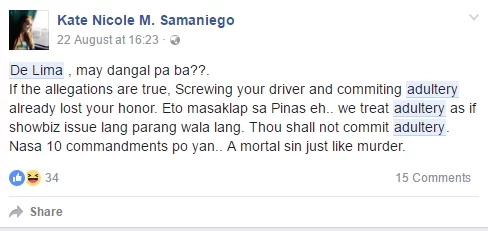 In an attempt to derail his campaign last elections, Duterte's detractors claimed that he is a womanizer. Duterte openly admitted that his first wife, Elizabeth Zimmerman, divorced him because of his womanizing ways. He once admitted that he has two wives and two girlfriends.
However, the whole social media seemed to be forgiving of Duterte's ways and even defended his womanizing by saying that men are naturally polygamous and we should accept it, what important is what he can do as the president.



It appears that most netizens are nodding on everything that President Duterte said and attack whoever is in the way of the president.
Sen. De Lima and the Commission of Human Right spearheaded the investigation on the extra-judicial killings related to Duterte's war on drugs.
Source: Kami.com.ph