- An adorable raccoon was stuck in the sewer drain at the Veterans Affairs Medical Center in Massachusetts
- It was dangling oddly, hanging on for dear life, with his head the only thing that keeping him from falling into his own doom
- He was fortunate enough that angels were there to rescue him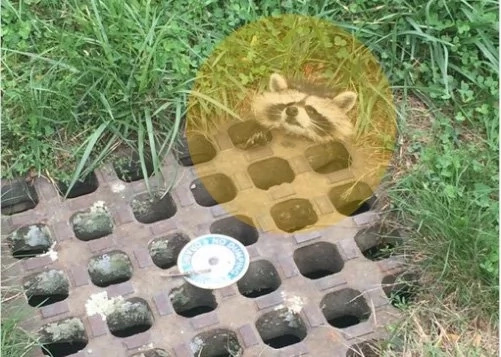 An adorable raccoon's ordinary day turned into a nightmare after he got his head stuck in a sewer drain. It wasn't ascertained for how long the raccoon was stuck, but it was quite fortunate that angels were there to rescue him.
The sewer drain at the Veterans Affairs Medical Center, Northampton, Massachusetts was the center of attention after a little raccoon's head got stuck on it for nobody knows how long.
READ ALSO: 10 times Baby Olivia made you squeal out of cuteness
One can only see the poor creature's head, with his body apparently dangling beneath him. The local police department may not also have the details as to when the poor raccoon got stuck but the gentle officers were quick to rescue the little animal.
  After some time, an animal control officer got to the scene and utilized one of the best lubricants you can find – cooking grease! So with a little cooking grease, the raccoon's head was finally out of the sewer drain and he was freed.  
READ ALSO: You should be happy to see nightmares and here is why
The little animal was clearly welcoming the attention he was getting. With all the cuddling that he got, he would be going home happy and smiling. The time he spent stuck on the sewer drain was worth it after all. – SD, Kami Media
READ ALSO: Netizens moved by inspiring story of mom and premature baby
Source: Kami.com.ph