- A Filipino bar serves food based on NBA teams like Oklahoma Tokwa (Tofu) and Boston Sisig (Famous Filipino pork dish)
- Pinoys love the puns and offer new suggestions for the menu like San Antonio Spams and Brooklyn Bagnets
- Some foreigners do not get the Pinoy humor and are amazed how cheap the food
A menu of a bar went viral online because it shows off dishes named based on different NBA teams.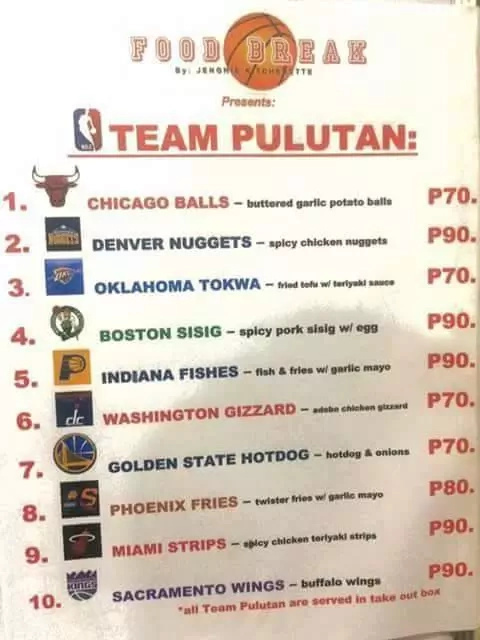 READ ALSO: VIDEO: NBA Top 10 shots by point guards will amaze you
Filipinos are known for their love of food and basketball and this bar offers these two things. The menu boasts "Team Pulutan". Pulutan is bar food that is often paired with liquors. The food is all served in a take-out box. The name and location of the bar are still unknown, although the top of the menu states Food Break.
The post made the day of many people. More than the dishes, the people are attracted with the witty changes on the names of the NBA teams like Oklahoma Tokwa (Tofu) and Boston Sisig (Famous Filipino pork dish).
READ ALSO: Goodbye UCLA! Kobe Paras is now a part of the Creighton Bluejays
However, some Pinoys cannot help themselves and suggested some new additions to the menu such as:
San Antonio Spams
Brooklyn Bagnets
Utah Juice
New Orleans Pilsen
Los Angeles Liquors
Of course, some foreigners did not get the Pinoy humor in these puns. Some foreigners even said that the dishes are not what the states are known for. NBA teams were named after the states of the United States.
Some foreigners commented that the food is cheap when they saw the conversion like a serving costs as low as $1.50.
READ ALSO: PBA gets a 24-hour basketball network with PBA Rush
Source: Kami.com.ph