- A video featuring an old man dancing the #RunningManChallenge has gone viral
- The video features an old man who can hardly get up but dances to the tune of the hit song with his grandson
- The video has been praised by many saying that the old man is probably a cool grandfather for enjoying what his grandchildren love doing
We know that we're all gonna get there. Old age is unstoppable. It's irreversible. But that doesn't mean that just because you're old, you can no longer enjoy certain things that new generations are into.
We all wanted to grow old gracefully. We all wanted to live life to the fullest. We all wanted to leave a legacy. While there are those who will forever be parts of historical books that generations to come will idolize, there are those who may have lived small but happy lives.
Television show host Vice Ganda once said that the beauty of old folks is that they were able to enjoy the trends of the past and is enjoying what the advancement of today offers.
READ ALSO: Could this tricycle driver be the next Pinoy singing sensation? Find out here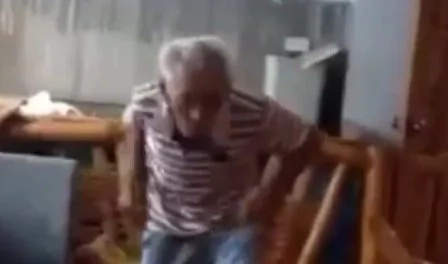 This is the case for this old man whose video has gone viral. If you're an active social media user, you've probably encountered the #RunningManChallenge where people upload videos of themselves dancing to the tune of the hit song.
Because of #RunningManChallenge's popularity, local and international celebrities also joined in the bandwagon by uploading videos of themselves doing the dance challenge.
This video, which features an old man jumping in the trend by doing the #RunningManChallange has been viewed 54 thousand times.
READ ALSO: After the Vhong Navarro incident, how is Deniece Cornejo now?

What made the video more appaling is the fact that the old man danced with what appears to be his grandson who was enjoying the trendy dance craze.
Netizens who enjoyed the video said that the old man must be a cool grandfather for enjoying things that his grandchildren love. Watch the video here. -Kami Media
RELATED: Watch a video of this daredevil pornstar sky diving absolutely naked!
Source: Kami.com.ph