Two crimes happened in Minuyan, SJDM, Bulacan this month
- Two chilling crimes took place at Minuyan, San Jose del Monte, Bulacan and people are blaming drugs for them
- An uncle decapitated his own nephew as he was reportedly high on drugs
- A man and his pregnant wife were shot at point blank and the suspect remained at large
Just this month, Minuyan, San Jose Del Monte, Bulacan has been in the news twice with two hair-raising crimes that happened in the town and people are all blaming it to drugs.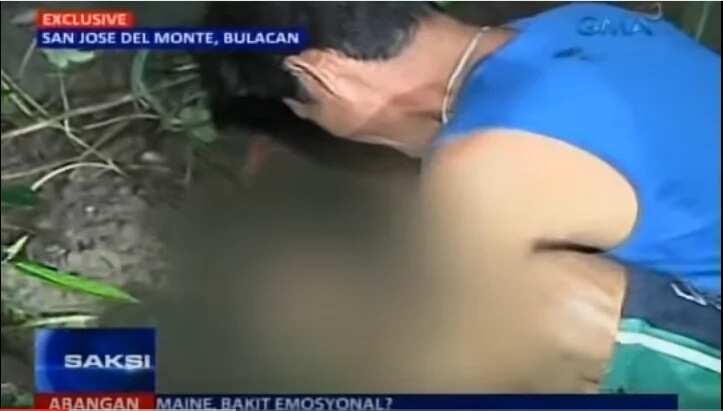 READ ALSO: Bulacan mayor offers 50K bounty to suspect on barangay hall shooting of couple
Yesterday, a body of a 14-year-old boy without its head was found in a dump site at 10 p.m. According to SJDM chief of police, Supt. Wilson Magpali, hours before the incident, witnesses saw the victim running from his uncle, Rubilito Arroyo, who was wielding a knife. The body bore multiple stab wounds.
The police arrested Arroyo hours after the body was found and he led the father and the police near a river where he buried the boy's head. The father can do nothing but cry upon finding the head of his son.
People claimed that the suspect is high on drugs when the crime took place. In an interview with the media, it seemed that the suspect not in his sound mind while recounting the events.
READ ALSO: Couple shot at point blank by neighbor in viral CCTV video
Earlier this month, barangay Minuyan was also in the headlines when a man and his pregnant wife were shot at point blank outside the barangay hall. Allan Contreras Averilla, 38, is the main suspect on the death of Dave Abello and live-in partner Jessie "Angel" Tolero who is seven-month-old pregnant. He is now wanted dead or alive.
A CCTV video went viral showing a man shooting a couple on their heads and escaped riding a motorcycle and remained at large. The couple filed a complaint against Averilla to the barangay for death threats and physical injuries upon knowing that Dave cited him stealing a Mio motorcycle in Towerville.
People are saying that the crimes were related to drugs. Some netizens bashed the Commission on Human Rights and Senator Leila De Lima saying that the war on drugs is exactly for these reasons.
Is it the drugs or there is something in the water of Minuyan, SJDM, Bulacan?
READ ALSO: VIDEO: 6 Most SHOCKING crimes in Philippine Showbiz history
Source: KAMI.com.gh